THE SPLIT SIPPER
You've heard of the Pet Rock, Hoola Hoop and the Internet...well check out the Split Sipper craze. Now you can have two different flavors in the same glass. They don't touch or mix until they reach your mouth! Jump aboard, do the Split Sipper twist ! For Kids try chocolate milk and regular vanilla milk. How about the school colors for team spirit in one glass like Black and Gold, Red and White, etc.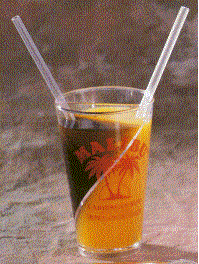 For theme parks you can use the Split Sipper on a 2 for 1 promotion, or any other number of ideas for rides or as tie-ins with food. Slurpies, Slushies, juice bars are all great ideas for two different colors of drinks all coming out of the same glass !
The 9" straw is available in colors of clear, pink, green or orange. The 2 to 1 straw is available in clear only.
The clear glass is 14 oz. (7 oz. each side) and provides an imprint area of 3" X 3". Minimum imprintable quantity is only 144.
Need an idea how the Split Sipper can work for your next promotion give us a call at 206 285-5359.