Awards
Our awards come in all sizes, shapes and colors and we have attempted to present just a few of the ones that have proven to be popular in the past. For specific types of awards or programs give us a call and we will be glad to try and help you.Need a catalog or a specific question answered on a product please call us at 800 960-9080 or 206 285-5359 (Seattle) or email us at donace@promotionalproductsandideas.com or don_shepherdson8@msn.com
Award Picture Frame/Clock
A precision analog clock that is surrounded by Dymondwood with a solid brass base, makes this perfect for the most important recognition and gift-giving occassions.The frames are provided with a black acrylic panel behind the photo panel which may also be used as an imprint area. In the picture below the photograh of the wedding couple covers this up. The photo size of this area is 5" X 7" with the actual item being 9" X 7 5/8" X 1 1/4". Your imprint would appear under the clock. Minimum quantity is only two with a custom imprint.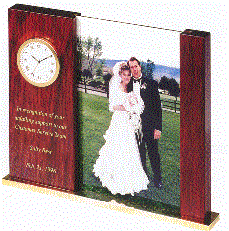 Pineapple Dish With Black Marble Base
This elegant pineapple dish measures 3 1/2" X 5 1/2" high and rests on an imprintable black marble base that measures 8" wide X 4" depth X 6" high when the pineapple is inserted in its base. The black marble base provides an imprint area of 2 1/2" wide by 2 1/2". Minimum imprintable quantity is only one.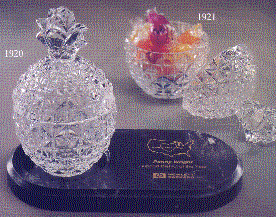 Solid Brass Buckles with Medallions
The Solid Brass Belt Buckles are just one type of belt buckle that we can offer you for your awards program. The buckle picture below shows how the medallion is placed into the finished belt buckle. The sizes of the buckles vary from a 1 1/2" X 2 1/4" to a 2 3/4" X 3 3/4" with the minimum imprintable quantity being 100.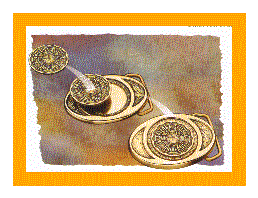 Verde Marble Round Box
The careful selection, cutting and hand-finishing all contribute to the classic beauty of Verde Marble. The most impressive weight and precision inlay of solid brass or solid zinc medallions make this series a world-class collection. The pictured round box below dimensions are 3 1/8" X 3 1/8" X 1 3/4" and the minimum imprintable quantity is 24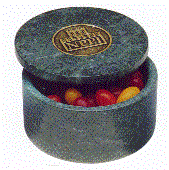 Award Clocks
Pictured below are two elegant desktop alarm clocks. The clock on the left is a 5" X 4" X 1 3/4" rosewood lacquered alarm clock. There is an ample imprint area on the plate displayed on the bottom of the clock. The imprint area is 2" X 3/4". The quartz alarm clock on the right is 3 3/4" X 2 3/4" X 1 1/2" and it quite elegant with its colors of gold and black. The imprint area on the clock is a 1" X 2 1/2".

The Flame and Corona
Pictured below on the left is The Flame which lets you have a crystal etched imprint on this truly beautiful award. The Flame is available with or without a base. Its dimensions are 2 5/8" wide X 5 3/4" high X 2 5/8" deep. The imprint area is 1" X 1 1/4" and the minimum is only one. The two awards on the right are the Corona which also has a crystal etched imprint. The size of the Corona is 3 1/8" wide X 2 7/8" high X 1 1/8" deep. The imprintable area is 2 1/4" diameter circle. Minimum quantity on the Corona is two.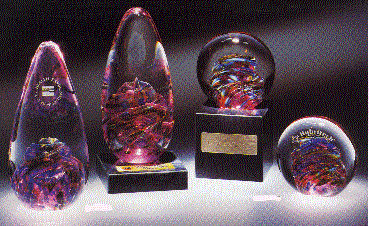 Apple Award
Pictured below is an award in the shape of an apple. We have many stock shaped awards such as this in many different shapes or we can do a custom shape for you.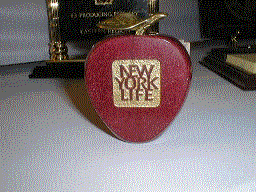 Pewter Awards
Classic artists can create for you a one of a kind model from your snapshots or suggestion. Displayed in the home or office each individual piece offers a true conversational appeal and timeless exposure for years to come.

Marble Pen Stand
Pictured below is a Marble Single Pen Stand with Brass holder that holds a quality pen. Size of the item is 4 1/4" X 3 1/2".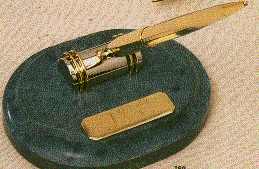 Rainbow Pyramid Award
These rainbow pyramids are available in three sizes. The pyramid on the left is 2 3/4" wide X 2 3/8" high X 2 3/4" deep. The imprint area is 1 3/4" high. Minimum quantity is two. The pyramid in the middle is 2" wide X 1 3/4" high X 2" deep and has an imprintable area of 1 1/4" high. The pyramid on the right is 1 5/8" wide X 1 3/8" high X 1 5/8" deep and provides an imprint area of 5/8" high. Minimum imprintable quantity on the two aforementioned pyramids is twelve.
Marble Pen/Pencil Holder
This marble item measures 2 1/2" X 2 1/2" X 4" and is great for holding pens and pencils or any other item that you may wish it to hold.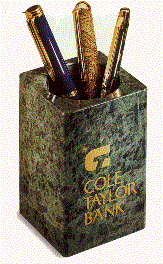 Wooden Desk Set
Here is a beautiful nine piece desk set of mahogany finish that includes a desk pad, double pen stand, deluxe memo holder, name card holder, double letter tray, executive letter opener, pencil holder, letter holder and a deluxe paper clip holder. And yes it can be imprinted with the minimum imprintable quantity of 25. It also is available in a six piece set.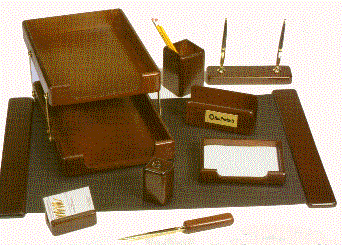 World Time Clock
Here is an interesting world clock that is finished in a fine grain of wood. Minimum imprintable quantity is 25.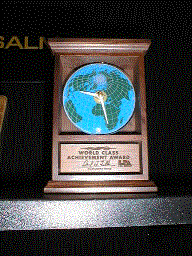 The Estate Library Set
This beautiful rosewood case is a classic styled box with straight edges and holds a Letter Opener and Gold-plated scissors. The box can be imprinted on both the inside and also the outside of the box. The size is 10 3/4" in length X 1" high X 4 1/2" in depth. Minimum imprintable quantity is only twelve.