Live Support Chat 9 AM to 5 PM EST Monday thru Friday
Beach

Presented below are just a few of the items that area available for your special beach promotion. Need a catalog on a specific item please either call us at 800 960-9080 or 206 285-5359 (Seattle) or email: donace@promotionalproductsandideas.com or don_shepherdson8@msn.com
Zipper Coconuts
The Zipper Coconuts are the biggest attention-getters we've come across in years. You've got to see it to believe it ! A small coconut (the real thing) is cored out and fitted with a zipper that really works. The coconut can hold a message, golf balls, candy, etc. inside. Your logo imprint can be pad imprinted directly outside of the coconut. Zip up your Beach Promotion with this great idea ! Minimum quantity is only 100.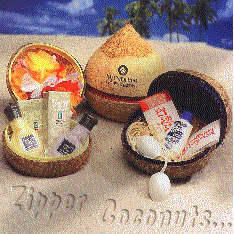 Beach Cooler
Here is a combination beach bag and cooler. The top part is a drawstring beach bag measuring 10" X 15" and the bottom part is a zippered, insulated, compartment that measures 10" X 5". The Beach Cooler provides an imprint area of 8" wide X 10" high or it can be embroidered in a 5" wide X 5" high area. It is made from 420 denier nylon. The minimum imprintible quantity is 50.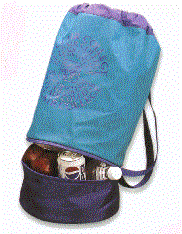 Beach Music CD's
These Musical CD's are great in pre-marketing beach promotions or also can be given away as prizes at Beach parties. Presented below are several stock CD's that can be custom imprinted for your event. The Pacifica collection contains lovely compositions rendered in tasteful arrangements that provide audio sanctuary for the spirit in this most-relaxing collection. The Island Magic CD features steel drums, acoustic guitars and tropical rhythms that describe delightful destinations on a melodic cruise to paradise. The Caribbean Paradise CD lets one set sail on a mellow musical cruise the islands to a mix of reggae and steeldrum tracks with breezy and alluring synthesis of American rhythm and blues, light jazz and traditional folk music from Africa and Jamaica. The minimum custom imprintable order is for 500 CD's.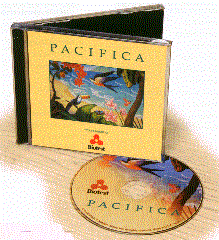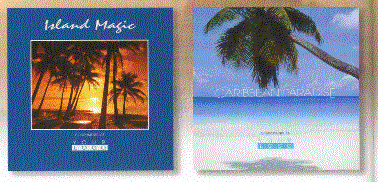 Vinyl Kick Bags
These custom imprinted Vinyl Kick Balls are especially popular with the younger crowd. Kick this great promotional idea around with your clients. Available in assorted neon colors. Sold in sets of 24. Black imprint only. Imprint area is 1 1/4" X 1/2". Minimum imprintible quantity is 288.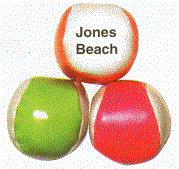 Beach Stress Relievers
These are great items for pre-marketing a company beach party or they are also great to give to kids at the beach party. The seashells measure 2 3/4" X 2 1/4" X 1 1/2" and provide an imprint area of 1" X 3/8". The seashells are available in colors of pink, blue, yellow, red and green. The crab size is 4" X 3 1/2" X 1 1/2" an has an imprint area of 1 1/4" X 1".Minimum imprintible order is only 100 pieces.

Sandal Postcards
These feet eon't fail your next promotional mailing ! Sandal Postcards are actually mailable just as they appear below. You will have fun dreaming up a theme fashioned around this fun item, such as " Always a Step Ahead". "Stepping Out", "Always in Step", "We're Walking on Air", "Put Your Feet on Easy Street", "Walk Right Up", etc. The Sandal Postcards are sold per piece and the minimum quantity is only 100. se feet won't failyourex prootional mailing. Sandjh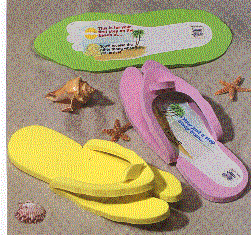 Beach Bags
With a minimum imprintable quantity of only 75 bags these are great items for that special beach promotion. The Beach Bag on the left measures 18 1/2" wide X 26" high and has an imprint area of 4 1/2" high X 15" in length. The Beach Bag on the right measures 22" wide X 32" high and provides an imprint area of 4 1/2" high X 18" wide. The minimum imprintible quantity is 25.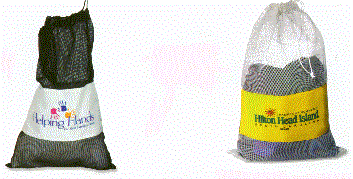 Beach Chairs
Pictured below are just two of the many types of beach chairs that we have available. These chairs are available in white, light blue, dark blue, gree, red and black. The custom imprint area is 10" X 14". The minimum imprintible quantity is only 10.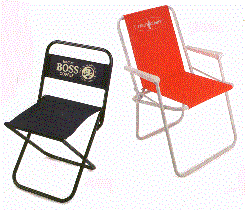 Coconut Postcards
Want to rest assured that every piece you mail will receive the highest possible amount of atention ? Send your message on our Coconut Postcards. A real coconut received in the mail is impossible to ignore, and why would you want to ? It will make a great conversation started again and again. And your message will be displayed far and wide. Your message goes on any of the stock backgrounds as pictured below. Minimum quantity is only 12 Coconut Postcards.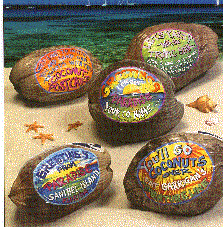 Beach Fun Items
At the top is the 7" Star Fish Sand Mold is available in assorted colors and it has an imprint area of 1/2" X 1 3/4" The middle top has the 6" tappered Sandpail with shovel and it provides an imprint area of eother a 2 1/2" diameter or a 2 1/2" X 2 1/2" area. The top right is the 10" Sand Sifter available in assorted colors and it has an imprint area of 3/4" X 1 1/2". From left to right at the bottom we have the 8" Tug Boat Sand Mold available in 4 assorted colors with an imprint area of 1/2" X 2". The Scuba Beach safes (lower middle) are 7" and the imprint area is 1 1/2" X 3/4". The 7" Sea Horse Sand Mold is available in assorted mold colors and provides an imprint area of 3/4" X 1". Minimum imprintible orders on the Star Fish Sand Mold, Sand Pail and Shovelt set, Tug Boat Sand Mold, Scuba Beach Beach Safes and the Sea Horse Sand Mold is 288 pieces. The Sand Sifter has a mininimum imprintible order of 300.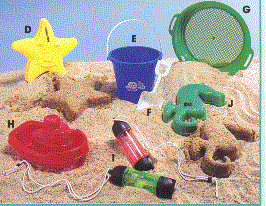 Beach Shirts
We have a variety of Beach type shirts with a very low minimum quantity of only 8 shirts.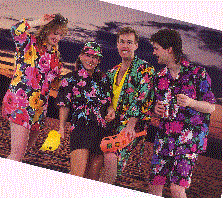 Miniature Beach Chairs
Send an unforgettable image of relaxation when you send Miniature Beach Chairs. The chairs fold to 7 inches and are small enough to fit in an envelope. Chairs are approximately 3 3/4" X 7" long. A custom pad print on the canvas area will impress your audience with your orginality and imagination.. The imprint area is 2 3/4" X 3".