Bobbleheads

We have stock Bobbleheads that are available in a quantity as low as 25 and we also can do a custom bobblehead for you. We have pictured below both our stock bobbleheads and examples of what can be done in a custom bobblehead for your business, school or organization. For all pricing and further information you are invited to give us a call at 206 285-5359 or email us at donace@promotionalproductsandideas.com
Stock Nurse and Doctor Bobblehead Dolls
Both of the stock Nurse Bobblehead doll and the Doctor Bobblehead doll measure 6 1/2" X 2 1/4" X 3 3/4" and feature an imprint area of 1 3/8" X 5/8". Your custom imprint appears on the base or the imprint can also be put on the clipboard that the Nurse or Doctor is holding. Minimum imprintable quantity is only 25.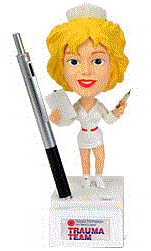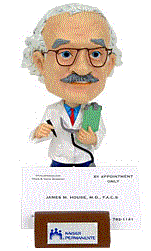 Custom Bobbleheads
These Bobbleheads are custom models and the size is 6 1/2" X 2" X 2" with an imprint area of 1 1/2" X 3/4". We can personalize these dolls with your custom logo on the base. These bobbleheads can also be produced with your design as well. Please provide us with your sketches of the front, back and side views for a price quote. Minimum order is only 250.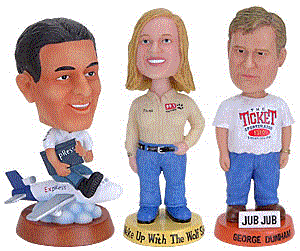 Custom Sized Bobbleheads
These custom Bobbleheads can range in size from 3 1/2", 4", 6" and 7" tall. They can be customized with your custom design. Or you can use the existing model for your particular need. Many sport shapes are in stock and available for your custom imprint. These bobbleheads can be imprinted in up to 6 colors and the minimum is 250 bobbleheads.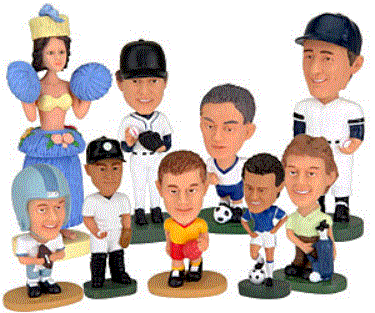 Stock Sports and Businessperson Bobbleheads
Here are two stock Bobbleheads that can have your imprint on the base and the minimum quantity is only 100. They are about 5 1/2" high and each provides an imprint area of 1 3/4" X 1/2". Available for quick shipping.