Calendars
Tuesday, August 12, 2008
Full Color mini Calendars
Available in a 4" X 5 1/2" or 3" X 4 5/8" size these mini calendars for 2009 can have a full color picture of your choosing. In the minimum of 250 the smaller size is only $ .54 each and the larger size is $ .96 each. Prices good thru September 30, 2008. For information on larger quantities or questions please call us at 800 960-9080 or email us at
Friday, June 06, 2008
2009 Planner
Choose from three stock covers and put your custom imprint in the 2 3/4" X 1.12" imprint area.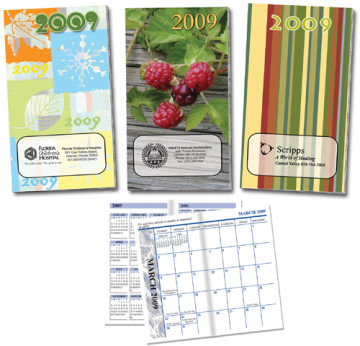 Every month is displayed on a two month spread with ample room for notes. It includes a 3 year planning calendar and sections for phone numbers and addresses. In the minimum of 500 with your custom imprint the price is only $ .27 each. For more information or questions call 800 960-9080 or email us at
Tuesday, July 17, 2007
Thermo-Strip House Calendar Magnet
It's a Calendar! It's a Thermometer! It's a Magnet! Measuring 4 1/2" wide X 3 1/2" high the Thermo-Strip Calendar Magnet is an inexpensive way to advertise your product, business or organization.

The imprintable area is 4" wide X 1 1/2" high in the roof area. In the minimum of 250 they are $ 1.55 each. For pricing on larger quantities call 800 960-9080 or email us at
Interested in other types of calendars? Visit our calendar website at Calendar information websites
Wednesday, November 22, 2006
Banner Message Pen with calendar
It is a pen. It is a calendar. When it unscrolls you have the calendar on one side and your information printed on the back.

With your custom imprint in the minimum of 1000 the Calendar Banner Message pen is $ 1.90 each. For further information or questions please call us at 800 960-9080 or email us at
Tuesday, November 29, 2005
Ceramic Pen/Pencil Calendar Caddy
Available with your custom imprint and calendar or you may use the entire area of the ceramic caddy for your custom imprint. The 15 oz. caddy is available with either a Black or Blue interior and can also be used to drink your favorite beverage from.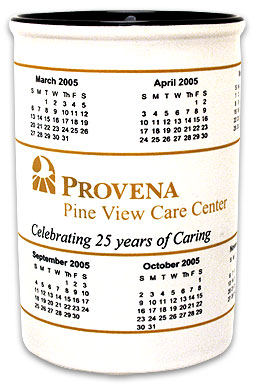 There are several stock calendar designs available - all of which have an ample area for your custom imprint. In the quantity of 144 with a one color imprint the price is $ 3.25 each. For questions please call us at 800 960-9080 or email us at
Friday, February 25, 2005
Calendars
Calendars are available in a wide array of styles, shapes and price ranges for your budget
Calendars are perhaps the least expensive way to advertise as in many cases they cost a penny a day or less to advertise. From inexpensive mini stick on calendars to the large wall calendars we have a wide choice to select from. Just name your theme and we will be glad to help you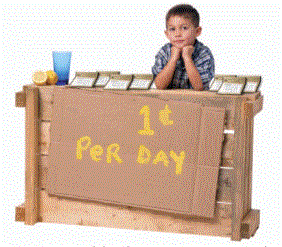 Need more information on calendars you may want to visit one of our calendar websites. The general Calendar website is located at Calendars, our Christian calendars website at Protestant Calendars and our Catholic Calendars website at Catholic Calendars
Need a current Calendar catalog? Just let us know what type of calendars you have a need for and we will be glad to send you one. Please email us with your calendar requirements at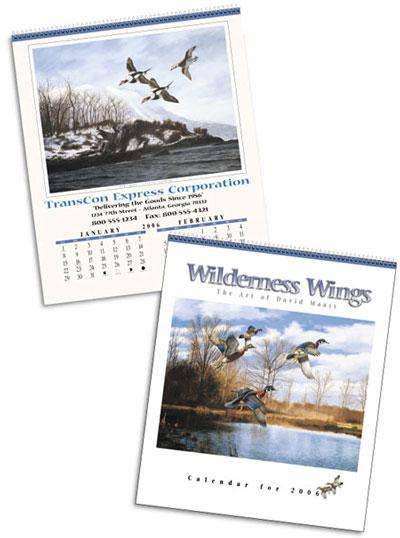 Posted by
donace
on 02/25 at 04:46 PM
Calendars
• (0)
Comments
• (0)
Trackbacks
•
Permalink