Friday, March 11, 2005
Color Changing Candle
Once the candle is lit, the candle continuosly changes colors from Purple to Blue to Green to Red and back to Purple again.
The color changing candles are available in an assortment of basic and seasonal shapes. Made from original wax, with no recycled materials added. Environmentally friendly lithium battery with a life span of up to twenty hours.
Great item for Special Occassions, Special Dinners, Conventions, Seminars and Retirement parties.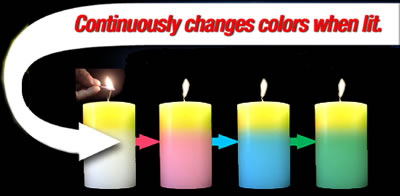 With your custom imprint in the minimum quantity of 250 with your one color imprint the price is $ 9.99 each. For more information on available shapes and larger quantities please call us at 206 285-5359 or email us at
Posted by
donace
on 03/11 at 04:32 PM
Home and Office
• (0)
Comments
• (0)
Trackbacks
•
Permalink