About
Promotional Products and Ideas is located in Seattle, Washington, USA email our company at donace@promotionalproductsandideas
or Phone 800 960-9080 or 206 285-5359 (Seattle) - Fax 206 286-1276
Our Websites
Promotional Products and Ideas
Geiger Promotional Products Mall
Glassware from Istanbul, Turkey
Over 12,000 stock key tag shapes and more
Custom imprinted sandals and more for 2012
Chocolate! Chocolate! 32 page Online Flip thru Chocolate Catalog
Caps and Hats Online Flip thru catalog for 2012
Lamagrafix Flip catalog for Replicas, Chalk Boards and Dartboards for 2012
Gallery Packaging - 100% Recycled Products
Norwood 2012 online catalog with pricing
2012 Logo Enabled Advertising from Tagmaster
Falcon 2012 Wooden Products Online Catalog
Categories
Monthly Archives
Most recent entries
Syndicate
Join our Free Monthly Email Newsletter Mailing List
Sports Promotional Products and Ideas
Need promotional products and ideas for your team, club, organization or business? Visit any of our Sports theme websites listed below for some great ideas! Just click on the link and you will be able to view products for the individual sports
Basketball Products
We have added a number of new and exciting Basketball promotional products to our Basketball website
Business Promos
Sunday, February 20, 2005
Hawaiian Camp Shirts
Camp shirts available in both adult and kids sizes
Our Hawaiian camp shirts are available in many stock designs. We can also do complete custom shirts for your business, organization, church or camp. For more information or a full line camp shirt catalog please email us at
or call us at 206 285-5359.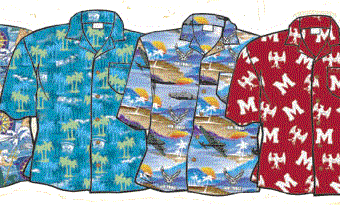 Many of our stock Hawaiian prints are also available in matching backpack tote bags or a draw string tote bag. Great for conferences and seminars.

Posted by
donace
on 02/20 at 01:17 PM
Clothing
• (0)
Comments
• (0)
Trackbacks
•
Permalink