Custom Celebrity Rubber Ducks
We can do a complete custom rubber duck with your company President, special person, retiring person or you name it. These are custom rubber ducks made to your specifications with the absolute minimum custom order being 5000 custom rubber ducks. For more information about your custom rubber duck needs please give us a call at 206 285-5359 or email us at donace@promotionalproductsandideas.com
The custom rubber ducks are only meant to show what the possibilities are for your potential custom rubber duck and are not sold individually on this website.
Allen Iverson Rubber Duck
This rubber duck was used as a giveaway at a Philadelphia 76'rs NBA basketball game.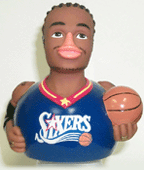 William Shakespeare Rubber Duck
To be or not to be a rubber duck is the question. Perhaps this could be a great item for a Shakespeare Festival.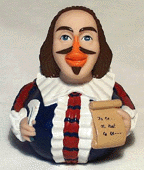 Stan Laurel and Oliver Hardy Rubber Ducks
Two of the all time great comedians in the USA were an unforgetable pair.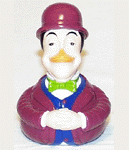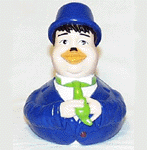 Mona Lisa Rubber Duck
Did you know her full name is Mona Lisa del Gioconda ?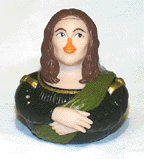 The Lone Ranger Rubber Duck
There all sorts of possibilities of custom rubber ducks being done in a Western theme.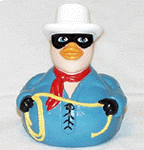 Uncle Sam Rubber Duck
A patriotic theme custom rubber duck can be done for political parties, conventions, etc.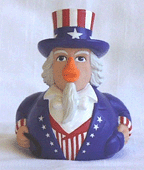 The Three Stooges Rubber Ducks
From left to right we have Moe Howard, Curly Howard and Larry Fine three unforgetable US comedians.

Babe Ruth Rubber Duck
Lots of sports related possibilities for a custom rubber duck.
Groucho Marx Rubber Duck
Here is still another famous US comedian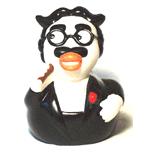 Ludwig van Beethoven Rubber Duck
Perhaps one of the all time great musical composers Beethoven lives on as a rubber duck.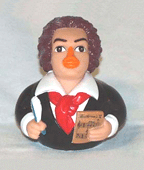 Queen Elizabeth Rubber Duck
This duck is the crowning touch to give you possible ideas for your custom rubber ducks.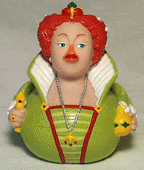 Have an interested in our stock rubber ducks with a minimum quantity of only 50 ? Please visit our website at http://www.promotionalproductsandideas.com/DUCKS.HTM