Live Support Chat 9 AM to 5 PM EST Monday thru Friday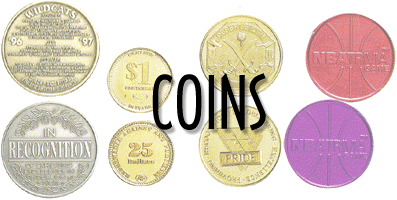 Presented below are example and information on the various types of coins that we can do for commemorative purposes, awards or souvenirs. If you would like a free catalog on coins you are invited to call 800 960-9080 or 206 285-5359 (Seattle) or email us at donace@promotionalproductsandideas.com or don_shepherdson8@msn.com



Our Hologram coins have realistic three-dimensional images that are great for attracting attention to your next promotion. Our Hologram coins start with a 39mm 10 Gauge Goldine coin, die struck on one side with a hologram affixed to the other side. Hologram coins are the perfect high impact visual for new product introduction, added value to employee recognition awards, brand enhancement for traffic builders, and will security to gift certificate and coupon programs. Both one and two sided holograms are offered. There are 20 stock holograms are a custom hologram can be done for your coin. Minimum order is for 1000 coins.

The 24KT Fine Gold coins are available on a special order basis.


The Golden Brass Coins have a high perceived value. Available in sizes of 1", 1 1/8", 1 1/4", 1 1/4", 34mm and 39mm. The minimum custom imprint quantity is 1000.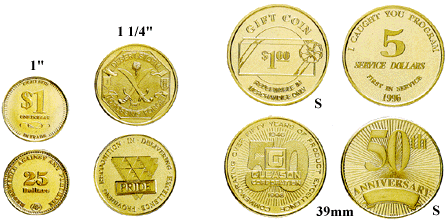 The Nickel-Silver coins look like fine silver. Nickel-Silver is a heavyweight alloy made of a special blend of nickel, copper and zinc. Although it contains no precious metal, it is bright silver in color, scratch resistant, non tarnishing and very durable. The Nickel-Silver coin is available in only the 39mm size with the minimum quanity is 1000.


For special presentations, the 39mm medallions contain one troy ounce of .999 fine silver. These medals can be used for gifts and awards. They are perfect for sponsors, executives and contributors. This high quality precious metal starts with a .999 Fine Silver blank and then is carefuly struck in ahigh quality press. The dies are specially prepared to provide a mirror polished background with frosted highlights.All coins wrapped in tissue before shipping. Minimum quantity is 100.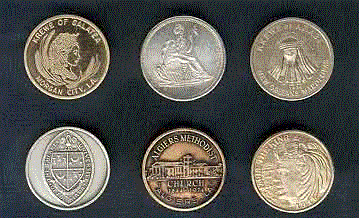 Colorized Aluminum Tokens
These colorized aluminum coins area most affordable and attractaive choice for Anniversary Mailings, Trade Shoe Hand-outs, and High Volume Promotions. They can be custom imprinted and used for just about any time of event.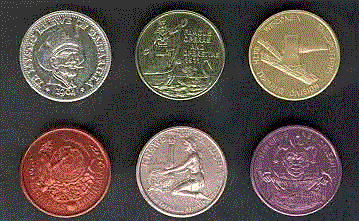 The anodized aluminum coins are available in a variety of colors. The anodizing process gives a bright, permanent color coating that can be applied to any aluminum coin. In addition to adding color, anodizing can be used to distinguish different denominations or expiration dates. Also they can be used for special tie-in product packaging or done in team colors. The four standard colors are Red, Blue, Green and Gold. Special colors are available on request. These coins are available in sizes of .984, 1 1/8", 1 1/4", 1 3/8" and 39 mm. Coins are available in either a 12 gauge or a 16 gauge thickness. Minimum order is for 2500 coins.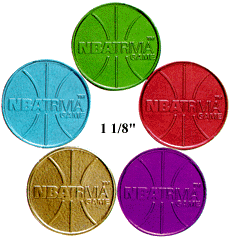 Great for Mardi Gras - Parades - Souvenirs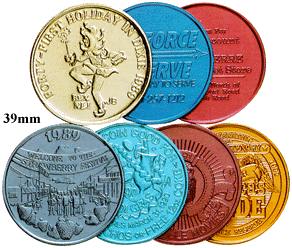 Lucky Coins
Encase a shiny penny or your special year penny in our horseshoe or round coin. Two stock dies available in both shapes - (Keep Me and Never Go Broke or Keep Me and have Good Luck) Great for collector series. Also available with bead chains or split rings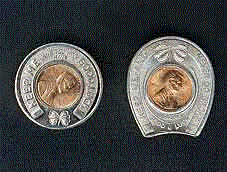 Spinner Coins and Stock Coins
We have several stock Mardi Gras, Anniversary and other coins that can be shipped without any special custom imprint. The Spinner coins are custom designed most often with a choice of You Win or You Pay along with your custom imprint on the back side of the coin.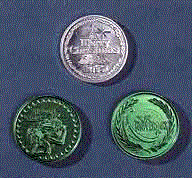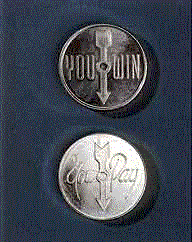 Wedding Coins
With a minimum quantity of only 100 the Wedding coins with a picture are a great item to give away at a wedding. They area available in 8, 12 and 15 gauge thickness.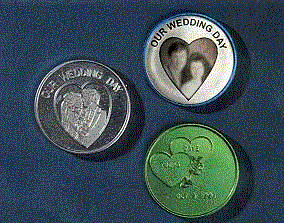 Wooden Nickels
We have a variety of stock cuts available or you can have your custom imprint on one side or both sides. Can be imprinted in a variety of colors.