Live Support Chat 9 AM to 5 PM EST Monday thru Friday
FANS
We have many type, shapes and styles of Fans that can have your custom imprint. We have pictured below the available stock shape fans. Minimum quantity is 250 and you can have both sides of the fan with your custom imprint. Available shapes from left to right in the top row are; Cowboy Hat, 7" Round, 9" Round, Telephone, Balloon, Paw, Heart, Number One and the Hourglass shape. The bottom row from left to right; Litho, 8" Square, Octagon, Palm Shape, Apple, Shamrock, Football Helmet and the House shape. For pictures of Church fans please visit our Church fans website at http://www.promotionalproductsandideas.com/PROTFANS.HTM
Need more information on any of our fans please call 800 960-9080 or 206 285-5359 or email donace@promotionalproductsandideas.com or don_shepherdson8@msn.com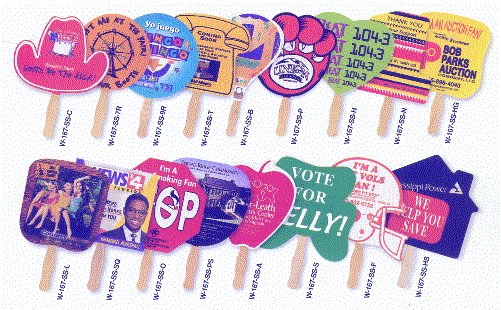 Stock Coupon Fans
Pictured below are stock shape fans that can have an attached coupon for your promotion. Minimum imprintable quantity is 250.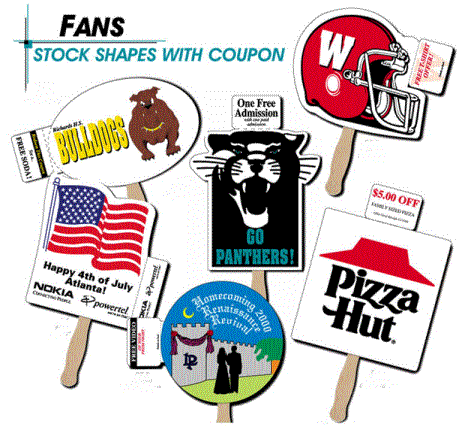 Stock Sandwich Fans
The stock sandwich fans are two sided fans with the stick sandwiched in between the two sides of the fan. Pictured below from left to right is the Palm Leaf, Tennis Racket, Baseball Hat and Rectangle Sandwich stock shape fans. The bottom row features the Square, Helmet, Bread Slice and the Round stock shape Sandwich fans. Minimum imprintable quantity is 250.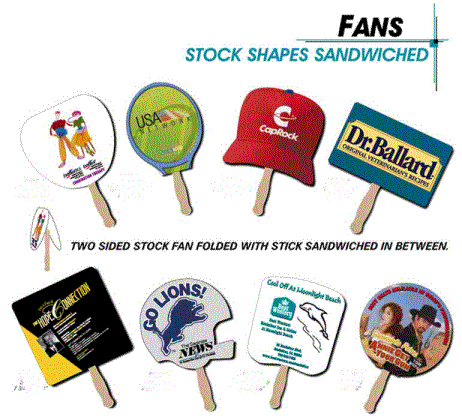 U Color Stock Fans
With many stock designs available we have pictured several of our available designs. The back side of the fan can have your custom imprint. Minimum quantity is 250.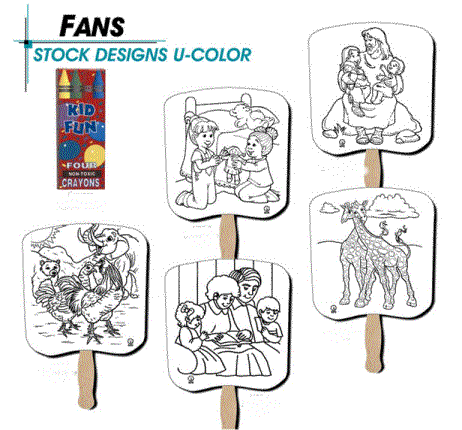 Fireworks and Sunshade Fans
Available either as a Fireworks or Sunshade version these fans have a dual purpose, Stock shapes from left to right are the Round, Bread Slice and the Palm Leaf. The second row has the Fireworks fan on the left, the Stop sign and Square Cool Shade fans. Minimum quantity with your custom imprint is 250.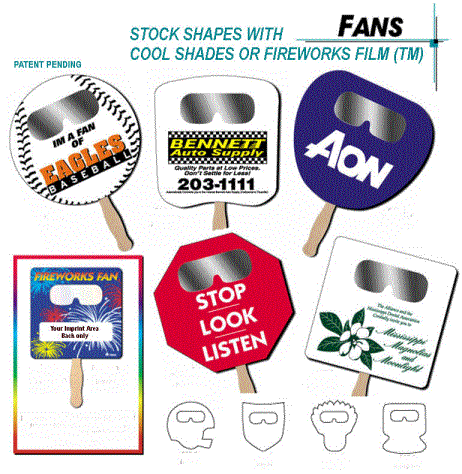 Shield Fan
Pictured below is the stock shield shapewhich can have your custom imprint and colors on one or both sides of the Fan.The Shield Fans are available in the stock Red, White and Blue as per the picture. The imprint area is 3" high X 6 1/2" wide.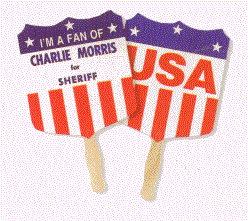 Palm Leaf Fan
Here is the most popular Palm Leaf Design Fan. Theseare available with the stock Palm Leaf design on one side and your custom imprint on the other side. The Palm Leaf design is available in colors of either Green, Blue or Buff. The imprint area is 6 1/2" X 7"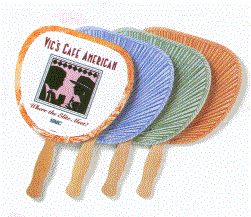 Tassel Fan
Each of these Tassel Fans is available with your choice of Tassels in colors of either Gold, White, Red, Blue, Black or Assorted.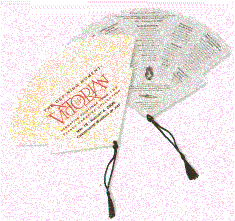 Custom Shaped Fans
Custom fans are available in quantities of as low as 250 with you choosing your custom shape. All custom shapes do require a die charge of $ 150.00 The maximum size for a custom fan is 9 1/4" from thr top center to the bottom center of fan, and 10 1/2" across.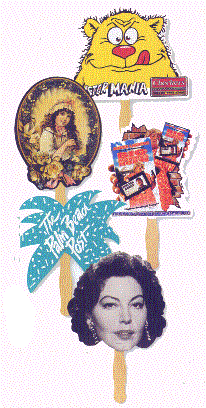 Mascot Shaped Fans
With a minimum quantity of only 250 these Mascot fans are great for all type of athletic programs to list the team schedule. Also great for invitations, class reunions, proms, and class plays. Need a sample just let us know and we will be glad to send one out at no charge.