Bulk Chocolate Mints
Each mini Chocolate mint provides a custom imprint area of 3/8" in diameter. Order all one color or any any assortment of the 15 different available colors. There are 410 mini mints to a pound and the minimum order is only 6 pounds.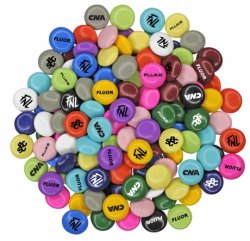 Boneless Smoked Ham
Cured with a special blend of herbs and spices, then slowly smoked over sweet applewood embers for a full 24 hours, this 5-7 pound boneless ham acheives an incredibly rich, mouth-watering flavor that cannot be duplicated ! And because it is boneless, this rare smoked ham that serves 10-14, makes a great gift for executives on the go. Just slice one succulent piece after another on the black walnut and maple cutting board that will have your logo and imprint on it !Need a food idea or a free catalog please call us at 800 960-9080 or 206 285-5359 or email us at donace@promotionalproductsandideas.com or don_shepherdson8@msn.com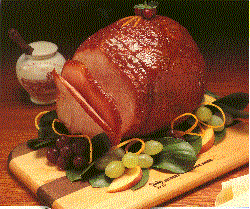 Buttered Popcorn and Carmel Popcorn
We have many variations of popcorn and carmel corn as they come in various size containers. We can even custom imprint the container if the quantity is large enough .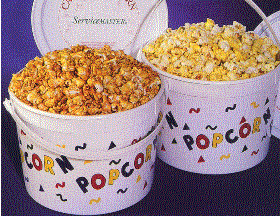 Coffee
These little packages fit conveniently inside a mug, and are premeasured to make one perfect pot of gourmet coffee (10-12 cups). These mug stuffers are available in the following flavors: Irish Creme, Butter Pecan, Hazel Nut & Creme, Cappuccino & Creme, Cinnamon Hazelnut, Mocha Java, Chocolate Raspberry, French Vanilla, Chocolate Macadamia Nut and Toasted Almond Amaretto. Minimum imprintable amount of packs is only 72.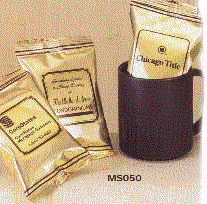 Jars of Goodies
Here are 4 1/4" tall X 3 1/8" diameter apothecary jars with your choice of nuts, jelly beans or chocolates. Your imprint appears on the outside of the jars. Minimum imprintable order is only 12.

Porterhouse Premium Steaks
The Porterhouse steak is the steak of choice at the great steak houses of America. These juicy and flavorful steaks are the ultimate grill experience for your tastebuds.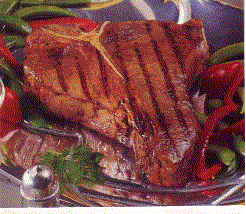 Chocolate Pecan Fudge, Praline Pecans and Cranberry Delight
Here is a trio of tasty delights that can have the wooden collector's box imprint with your message and logo.
The upper left contains three quarters of a pound of Chocolate Pecan Fudge, the upper right pictures praline-sugar coated pecans which is a traditional Southern confection. The rich flavor is definitely beyond compare. In the right hand corner is the Cranberry Delight which is a mix of dried cranberries, almonds, dates, yogurt raisins, pineapple and sunflower seeds. Long after these treats have vanished the wooden collectors boxes will be a cherished reminder of your thoughtfullness. Minimum imprintable quantity on any of thee three delights is 24 units.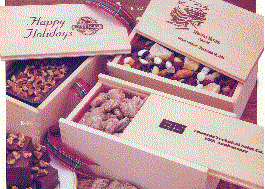 Pork Ribs and Premium Gourmet Steak Burgers
Pictured below on the left are four slabs of thick meaty ribs. This is what grilling is all about - great big juicy slabs of baby backs ! These premium pork ribs are a real barbecue feast. Available in either 4 slabs of 1 1/4 lb slabs of Pork Baby-Back Ribs or available in precooked Pork Loin Back Ribs of four 14 oz slabs. Pictured on the right is the Premium Gourmet Steak Burger that is made from the finest thick, juicy burgers that are made from only lean chopped steak with only 15 to 19% fat. Mouth-watering, absolutely flavorul and simply perfect for sizzling on your grill. Available in six 8 oz. patties (3/4" thivk), twelve 8 oz. patties (3/4" thick), twenty-four 8 oz. patties (3/4" thick) or a Premium "Lean" in a quantity of twelve 4 oz. patties.

Custom Boxed Cookies
These cookies are available either with eighteen 2 oz. cookies in a custom imprinted box with mailer or they are available as a 1 1/2" cookie in a custom box with mailer. Minimum quantity is 25. The cookies are packed in a resealable clear plastic bag inside the custom white gift box. The custom box is inserted into a corrugated mailer.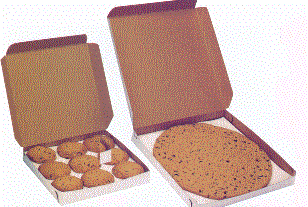 Elegant Chocolates
These simple, elegant chocolates are always the perfect way to show your clients just how appreciated they are Available in two classic shapes, 3/4 oz. medallion (2" diameter) and 3/4 oz. square (2" X 2") and packaged in a gift box or cellophane wrapped. Also available as two foil wrapped medallions (1 1/2" diameter) in a gift box.