Live Support Chat 9 AM to 5 PM EST Monday thru Friday
GAMES & PUZZLES
We are presenting below just some of the more exciting custom imprintable items for your company or organization to consider for your promotional needs. We will be adding new items to this area on a periodic basis and if you wish a catalog and pricing on an item that you see presented here please email us at donace@promotionalproductsandideas.com or don_shepherdson8@msn.com or give us a call at 800 960-9080 or 206 285-5359 (Seattle).
Dominoes

Our custom designed dominoes can have your name and logo of your business, association, club or other enterprise permanently printed into the backs of each of the 28 dominoes in a set. Dominoes are a most effective, memorable and unique advertising gift idea for your customers, employees and prospects. Excellent for merit and safety award programs. Puremco dominoes are the only dominoes made in the United States of America and the only dominoes in the world with photographic custom printing. These beautiful dominoes are made from a special plastic marble resin and then polished into a silky smooth texture with the look and feel of real ivory. Each set is packaged in an attractive, heavy duty, alligator-print, white cardboard gift box. Game rules are enclosed with each set. Optional custom cases are available in wood, plastic and leatherette at extra cost. The minimum custom imprintable order is only 12 sets !!
Pyramid Clock & Game
The mysteries of the pyramids are continued in this beautiful and eye-catching walnut pyramid. The hinged top portion pivots back to reveal a relaxing game of peg solitaire, and in case you get too involved, the golden quartz analog clock is ready to gently call you back to work !. The wooden pegs for solitaire are included. The size is 4 1/2" X 4" and the laser imprintable area is 3" X 1". The minimum custom imprintable quantity is only 12.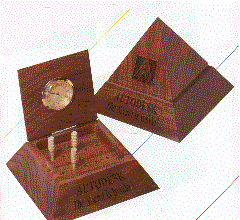 Puzzle Scrambler
The puzzle scrambler is one of our most inexpensive and popular puzzles. Your custom imprint appears in the puzzle and you can move the 15 pieces around and then try to get the puzzle pieces back together to display the original logo and message. It is a lot harder than it looks ! The minimum imprintabel quantity is 250 and the available puzzle frame colors are black, blue, red and white. The Puzzle area can be imprint on a 2" area PLUS you can also imprint the front bottom in a 2 1/4" X 5/8" area and the back can be imprinted in a 2 1/2" X 2 3/4" area.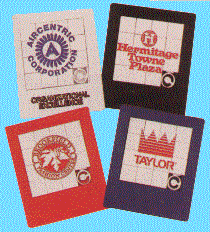 Ball Solitaire
Here is a collector's edition of a game played by millions. Each recess, except the center, contains one ball when you begin play. The challenge ... jump over adjacent balls and remove them until only one remains in the center. It may seem hard , but the game is very difficult to win. The overall size is 9" X 10" and the area at the bottom provides an ample custom laser imprintable space of 4" X 2". The minimum custom imprintable quantity is only 12.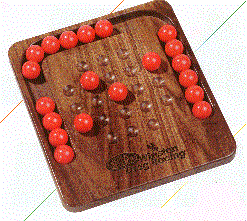 Ball and Toss
Puzzled over what to use for your next promotion ? Why not consider our ball and toss ? With a minimum quantity of only 250 needed for your custom imprint the ball and toss provides an imprint area of 1" X 2" on the handle and the item is available in either red or blue as pictured below.
Jacob's Ladder
Jacob's ladder is one of the oldest and simplest and most fascinating toys know to mankind. Jacob's Ladder stimulates diverse and creative thinking with its aemmingly infinite movement. Use our instruction booklet to create animal shapes, optical illusions, and magic tricks ! Colorfully boxed with a wooden display case. The minimum imprintable quantity is 150. The size is 2 3/8" X 2 1/8" X 3 3/8".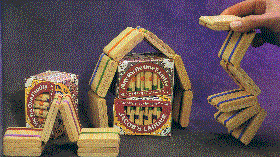 Game Mouse Pads
Here is an interesting concept. Your custom imprint on a game mouse pad. Stock designs of checkers, backgammon and chess are always close to your computer. The checkers game mouse pad includes 3/4" black & white plastic game pieces. The Backgammon game mouse pad includes two sets of dice, doubling cube and 3/4" pieces in black and white. The Chess game mouse pad includes black & white plastic chess pieces with a 1 3/4" high king. On any of the three game mouse pads that you may choose your custom imprint is sublimated into the mouse pad fabric that provides a durable and permanent and washable item for your promotional needs.The minimum imprintable quantity is 100.

Safe Dart Score Game
Each fun dart game comes with 3 safe darts that have plastic suction cups at the end. Minimum custom imprintable quantity is 100.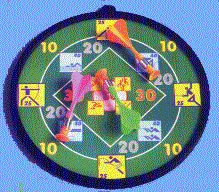 The "T" Puzzle
The famous "T" puzzle is no small challenge. See for yourself why it is so popular. Four pieces to the puzzle. The size is 5 1/4" X 5 1/4" and your laser custom imprint goes on the 1 1/2" X 1 1/2" printable area. The minimum imprintable quantity is 50.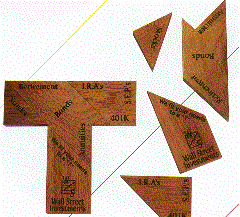 Oops
Can you stack these colorful balls of our OOPS pyramid puzzle so that no identical colors touch ? It's harder than it looks - the balls are joined in pairs and stacked on a cherry wood base. One you've mastered the basic principles, apply them to solve the OOPS. Packaged in clear pyramid boxes. The minimum imprintable quantity is 150.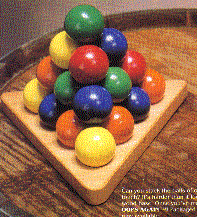 Travelers Mancala and Cribbage Boards
Here are two great board games for travelers. The traditional game of mancala is based on arithmetric strategy. It originated over 3000 years ago in Africa. The playing pieces are created from tumbled minerals and the set makes a beautiful gift. Each game includes history, techniques and game rules. On the right is everybody's favorite - Cribbage. Both games are a size of 9" X 3 1/4" x 3/4" and the minimum custom imprintable quantity is 150.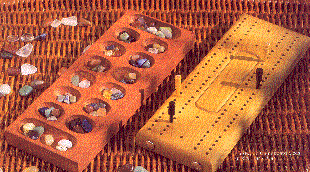 Promotional Puzzles
We have many sizes and shapes of puzzles that we can do for you. Pictured below are just a few of the puzzles that we can possibly do for your next promotion. Pictured at the top is a 8" diameter puzzle, at the top in the middle is a 8" X 8" 25 piece. In the upper right corner is a 9 piece 5" X 7" puzzle. On the bottom right is a 20 piece 8 1/2" X 11", the middle presents a 35 piece 8 1/2" X 11" and the bottom right presents a 75 piece 11" X 16" puzzle. the minimum imprintable quanties on these puzzles is 250 with your custom imprint.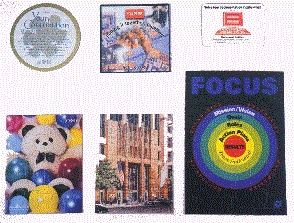 Mind Bogglers
Here are three of our must popular Mind Bogglers. From left to right we have the Trouble Puzzle, the Triple Puzzle and the Quadruple Puzzle. Each of the three items is about 8" X 1" and the minimum imprintable quantity is 150.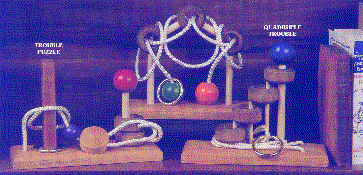 Direct Mail Puzzles
Direct mail puzzles are great to introduce a new product, create product awareness, change of location or any other use that your business or organization may have. Available in two basic sizes the 4" X 6" 6 piece puzzle is shrinkwrapped to chipboard with carrier sheet for mailing. The 5" X 7". 9 piece puzzle is also shrink wrapped to chipboard with carrier sheet for mailing. The minimum imprintable quantity is 250.