Live Support Chat 9 am to 5 PM EST Monday thru Friday
Glassware and Ceramic Items
Need a free glass or ceramic catalog give us a call at 800 960-9080 or 206 285-5359 (Seattle) or email your request to donace@promotionalproductsandideas.com or don_shepherdson8@msn.com and we will send one right out. There are many various types of processes of printing a ceramic, glass or porcelain item and we are presenting info on several of them below for your future reference.
Line Artwork Decals For Porcelain and Ceramic Items
Porcelain decals are printed using special inks and then hand applied to the porcelain or ceramic product of your choice. This process generates closely registered, colorful imprints which are exceptionaly sharp and clear. Every piece is kiln-fired at high temperature for permanence. Line artwork decals are best suited for single or multicolor imprints which requires exact detail, close registration and color match. This process is also used when creating lip imprints ( like on a mug) or inside bottom imprints on a mug. Pictured below are examples of this process.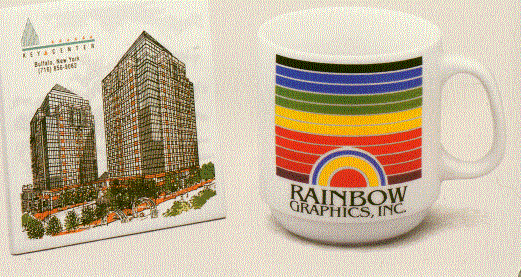 Prismacolor Decals
PrismaColor* decals are used on all ehite glazed products. The PrismaColor* process gives the soft appearance of full color process reproduction. However special inks are used which fuse with the porcelain glaze and still maintain their color consistency and sharpness. PrismaColor* imprints are kiln-fired into the porcelain to acheive an extremely durable beauty that will last for years.
PrismaColor* is recommended when a full color design is desired on fine porcelain such as Limited Edition Collector Plates or mugs. It is also recommended when soft-tones, subtle shading or vignettes are present. PrismaColor* is perhaps the most versatile color reproduction method, however it is not an exact four color process reproduction because of the inks that are used in the process. PrismaColor* is a trademark of the World Wide Line of which we are proud to represent.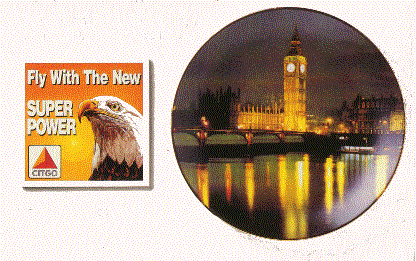 ColorSource Decals
ColorSource* imprints are created with high resolution 200 line screen decals using specially formulated dies. When transferred onto your promotional gift under heat and pressure, these government approved safe dies change into vivid colors which are bolder and brighter in appearance then other reproduction methods.
Colorsource * is recommended when brillant, accurate full color reproduction is a priority. This four color process technique can achieve what you want on a broad range of ceramic and rubber promotional products (like mousepads) The ColorSource* imprints are dishwasher and microwave safe. ColorSource is a trademark of the World Wide Line of which we are proud to represent.
Direct Screen Process
Direct screen is normally used for the less intricate printing on both ceramic and porcelain items. The direct screen imprints are printed directly unto the item using ceramic inks that can be kiln-fired and fused into the glaze after they are applied. Because of the simplicity of this process, it is the most economical imprinting procedure that is available. It is primarily used for one, two and three color imprints that do not have close registration and detail is not needed.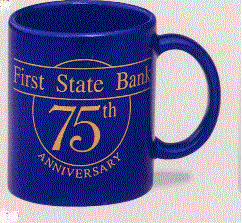 Tumblers
Pictured below are four glass tumblers. From left to right are a 16 oz. optic mixing glass with a decal process, the second from the left is also a 16 oz. mixing glass that is screened in 5 colors, the second tumbler from the right is a 16 oz. bell soda shape with a decal decoration. The Mixing glass on the far right is a 20 oz. with a single color imprint. The minimum on these tumblers with an imprint is 72. The two tumblers on the left both have an imprint area of 2 3/4" X 3" wide by 10" wrap around. The 20 oz. mixing glass on the right also has the same imprint area. The 16 oz. bell soda tumbler has an imprint area of 1 9/16" X 2 1/4" X 10 9/16" wrap around.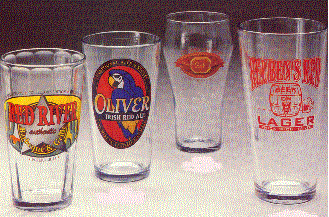 The Jug
The Jug features a giant sized imprint area of 3 7/8" X 3" wide on its 64 oz. jug.These custom imprinted jugs are great for apple ciders & orchards, they can be used as coin banks, commemorative events, sporting events, beverages of all types, iced tea and lemonade.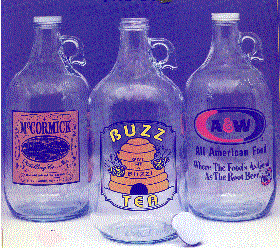 Color Changing Mugs
The upper two pictures show what this mug looks like without a hot liquid in while the bottom pictures show the change that happens as soon as a hot liquid is put in the mug. There are many possibilities as to what can be done with this

mug. If you have an interest in this item give us a call for some ideas and applications that we have done for other customers.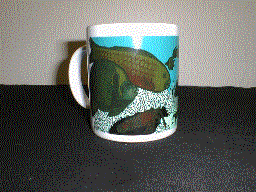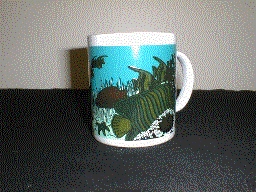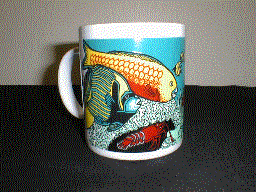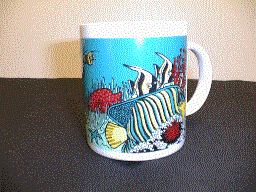 Pilsners
Pictured below are 20 oz. Pilsners, they are also available in 16 oz. and 23 oz. Minimum imprintable order on these is 144.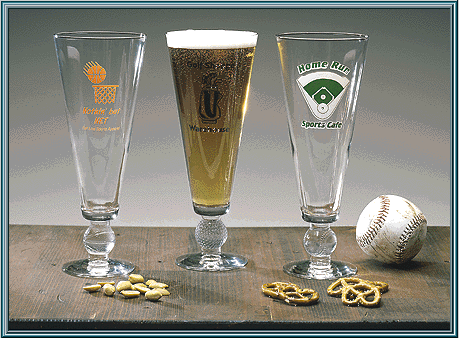 Marbleized 12. Oz Jars
These Marbeleized 12. oz. Jars are available in white, green, black, teal and blue and provide you with an imprintable area of 3 1/2" X 1 3/4" on each side or a wraparound imprint area of 11 5/16". They are great for storing all sorts of things from candy to spices. Minimum order is only 60.

Mug Spinners
These spinner mugs are available in 22 stock design spinners and have a great imprint area. Or we can do a custom spinner for you that fits your needs