Live Support Chat 9 am to 5 PM EST Monday thru Friday
Hiking & Camping
We have many Hiking and Camping related products , ideas and catalogs. Let us know what you are in need of and we will be glad to send you the information. Please call 800 960-9080 or 206 285-5359 (Seattle) or email us at donace@promotionalproductsandideas.com or don_shepherdson8@msn.com
Compasses
On the left is our black plastic liquid filled compass with a snap open lid and ring. 40mm diameter. Gift boxed. On the right we have the Open face compass in brass color with a key ring attachment. The diameter is 1 3/4" and comes with a gift box. Minimum imprintable quantity is 48.

Bed and Breakfast
Wake up to the early morning sunrise, sizzling bacon, eggs, hot coffee, and the greatest view you can imagine. This Sundome 7' X 7' tent, two burner propane stove, 1/3 gallon jug, and an aluminum 20-cup coffee pot Bed and Breakfast set can be purchased in a quantity of only one. This also makes a great employee award.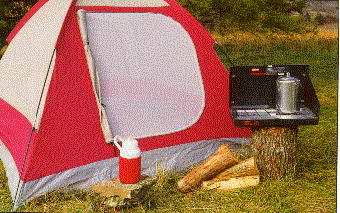 Seven Power Binoculars
These seven power binoculars are focus free and give you a big screen viewing area. Your imprint can be imprinted on the roof or side of the binoculars and the minimum imprintable quantity is only 20.

Gerber Axes and Saws
Here are several great items for our outdoor folks. At the upper left is the Camp Axe with a 2 1/2" blade length on a 17 1/2" long handle. The blade thickness is .750 inches and weighs 2 1/2 pounds. The middle sport axe has a 1 3/4" blade length on a 13 7/8" long long handle with a blade thickness of .675 in and it weighs 1 1/12 pounds. The axe on the right called the Back Paxe has a blade length of 1 3/4" on a 8 7/8" handle with a blade thickness of .675 inches and weighs 17.5 oz. On the bottom the Sport Saws have a blade length of 6 1/4" and the overall length is 14 1/2" and they weigh 8 oz. Imprinting is laser engraved on the handles and a minimum imprintable quantity is one.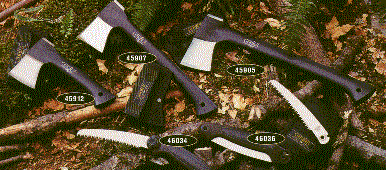 Picnic Pak
This pack includes a 100% acryclic blanket in look-at-home-anywhere tan. Plus it's machine washable and dryable 45" X 50". The pack includes an Alladin one pint insulated bottle, and eating utensils for four. The whole package fits in a practical and attractive synthetic wicker basket measuring 16" X 10" X 7". Minimum quantity is only six.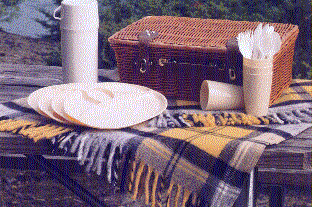 Lighters
We carry various types of lighters but perhaps our most popular lighter is the BIC. Pictured below are two BIC lighters. The minimum imprintable quantity is 250. They are a must for hiking and camping and also are great for that backyard barbecue.
Companion Lantern & Table Lamp
Here are two great items for that overnight camping trip. The Coleman Companion Lantern on the left measures 11" high X 6 1/4" in length X 4" wide and provides and imprintable area of 7/8" X 7/8". It operates on 2 Eveready AA cells and a Krypton 4.8 volt, 0.5 amp bulb. On the right is the Coleman Table Lamp which measures 12 1/4" high X 7" in length X 6 3/4" wide. The imprintable area is 2" wide X 1 1/4" high. The battery type is four Eveready D cells and a Krypton bulb. The minimum imprintable quantity of either of these great items is 24 units.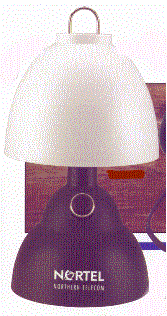 The "Hobo" Outdoor Diner Utensils
This is a complete outdoor dining set in 100% stainless steel that opens from a compact 4" folded unit to an individual fork, knive and spoon. It easily slides apart and together again and fits into a 2" X 4 1/2" nylon web sheath that can be carried on the belt or in a pocket. The knife alone is a slim, lightweight lockback that can be used as a pack knife. 4" closed. Comes with a full sewn and sturdy nylon web sheath. The imprint area is 2" wide X 5/16" high. Minimum imprintable quantity is 25.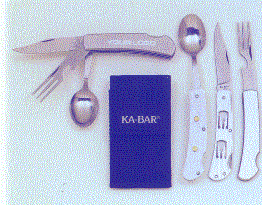 Silva Matchcase Compass
The Silva Matchbook Compass is an excellent dual-purpose accessory/survival item for the camper. backpacker, hunter or anyone that ventures into the wilderness who wants a simple directional compass and dry matches. Hold about 25 kitchen matches. Minimum imprintable quanity is 25.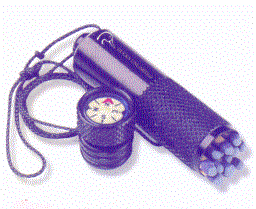 Camp Trails Adventure Travel Kit
This versatile DOP kit will hold everything you need for your travels. The large main compartment has a horseshoe-shaped opening for easy access. Two end pockets and a mesh pocket on the inside panel keep smaller items organized. Available in colors of pine or black. The imprint area is 3" X 5" and the minimum imprintable quantity is 48.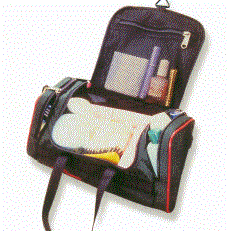 Camp Trails Touring Pack
This classic rucksack with one main compartment and two side pocket. Features comfort zone straps with 3/4" web felt. Available in pine/black or khaki/black. The imprintable area is 3" X 5" and the minimum imprintable quantity is 24.