Live Support 9 AM to 5 PM EST Monday thru Friday
Jewelry


We offer many types of jewelry that includes lapel pins, earrings, rings and bracelets. Please give us a call at 800 960-9080 or 206 285-5359 (Seattle) or email us at donace@promotionalproductsandideas.com or don_shepherdson8@msn.com and we will be glad to send you a catalog on the jewelry items that you have an interest in.
Lasered Cloisonne Lapel Pins
Pictured below are examples of Lasered Cloisonne on 100% Hard Fired Cloisonne. Each lasered cloisonne color is applied directly on top of another without metal separations. Sizes on this most popular lapel pin ranges from 1/2" thru 1 1/8".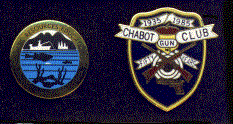 Genuine 100% Hard Filed Cloisonne Lapel Pins
This method is an ancient art form developed in China over 6,000 years ago.. Each design is stamped into copper brass. The recessed areas are hand inlaid with a cloisonne paste made of water and finely ground powdered colored glass, then fired at 1400 degrees until the glass fuses to the metal and is level with the metal separations. It is hand stoned and this process is repeated per each color until perfect. The product is highly hand polished for a perfect finish. Available in sizes from 1/2" to 1 1/2".

High Polished Metal Lapel Pins
This high polished metal lapel pin is available with various types of backgrounds such as Dull Matte, Stippled or Florentine and is available in hard-fired cloisonne or soft enamel. They are die struck to show the beautiful contrast between the polished metal and the Dull Matte background. It is especially attractive when combined with cloisonne or soft enamel color. The cloisonne is level with the polished metal soft enamel is recessed below the polished metal. Available in sizes ranging from 1/2" thru 1 1/2".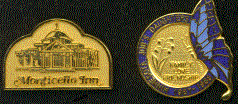 Photo Etched Lapel Pin
The Photo Etched Lapel Pins are an inexpensive process for small detail artwork. The process has metal slightly thinner than used for cloisonne. The process is chemically etched into brass enabling better small detail reproduction. A thin wall separates each color and is baked for durability. These lapel pins are available with or without an epoxy dome.