Live Support Chat 9 AM to 5 PM EST Monday thru Friday
Keytags
Stylish Keyholders
Here are three elegant and stylish keyholders with each of the three featuring a different keyholder finish. The one on the left is a silver twist-lock with etched and colorfilled imprint and an imprint area of 5/8" X 1/2". The middle picture is that of the gunmetal twist-lock keyholder also with an etched and colorfilled imprint and it also has the imprint area of 5/8" X 1/2". The Dymondwood twist-lock keyholder on the right features a laser engraved imprint and has an imprint area of 13/16" X 9/16". Minimum imprintable quantity on any of these three selections is 100 keyholders

Etched Leather Keyholders
These keyholders are created with genuine hand-stitched leather. The 24 karat gold-plated solid brass inlays are etched and colorfilled. Either a black or brown leather is available and the imprint area is 3/8" X 1/2" in the pentagon shaped area. Minimum imprintable quantity is 100.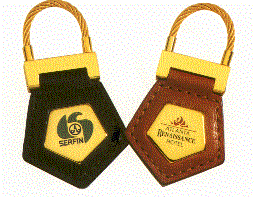 Custom Vinyl Keytags
We have many stock shapes for key tags available. Have a special shape in mind ? We may already have it, just give us a call and we will be glad to help you. Pictured below are just a few of the custom shapes available.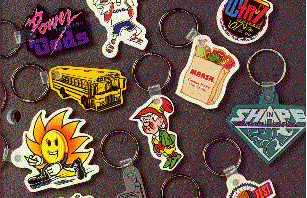 Punchable Key Tags
These key tags come with a punch where one can punch the person's keytag as they reach various levels of buying such as a record store, fast food restaurant, video store or lubrication store. The punches are free with all orders of 250 and you have a choice of diamond, heart or kite shaped punch. All kinds of possibilities with this truly unique keytag.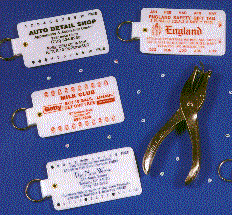 Leather Key Rings
These keyrings are available in either genuine black or tan leather. Minimum quantity on any of those pictured below is 250. They range in size from the large square leather key ring at 2 1/4" X 2 1/4" and an imprint area of 2" X 2" to the teardrop shape key tag that is 1 1/2" X 2" and provides an imprint area of 1 1/8" X 1 5/8"..
State shaped Key Tags
All 50 states are available in a variety of colors that include translucent red, blue and green. Alos avaialable in opaque are white, black, yellow, cream and gray. Neon colors of orange, pink abd green are also available. These key tags are made of the soft pliable vinyl and the minimum imprintable qiantity is 250. They can be imprinted on both the front and back of the state shap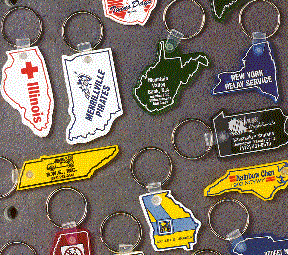 Aluminum Event Tags
Having a special event that you wish to commemorate ? How about a keytag that looks like the ticket to the event ? This 1 1/2" X 4 1/4" tag is available in either aluminum or brass. Minimum quantity in aluminum is 250 and in brass it is 100.