Live Support Chat 9 AM to 5 EST PM Monday thru Friday
Librarys
Here are just a few ideas and products for use by Libraries and Friends of the Library. We will be adding to this area throughout the year so please do come back on a periodic basis and visit our Library area.Need an answer or pricing on a specific item or a catalog please call us at 800 960-9080 or 206 285-6459 (Seattle) email us at donace@promotionalproductsandideas.com or don_shepherdson8@msn.com

Heart Key Tag
This 2" diameter heart is great for your book readers club. It says "I Love To Read Books" on one side and you can put your imprint on the back side. Minimum imprintable quantity is 250. The heart is available in red, white, blue, yellow, orange and black.
Smilee Bookmark
These are great items for reading awards for kids and adults. These sturdy vinyl bookmarks have a magnetic action that keeps pages marked. Each Smilee has a happy face made out of a sturdy vinyl with matching wobbly arms. The size of each Smilee is 5 1/4" X 4 1/2" providing you with an ample imprint area.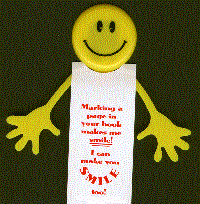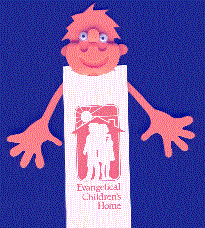 Library Cards
Here are several samples of library cards. We can imprint as few as 100 library cards with your logo and library information on both sides of the card. In fact we will do a

sample for you just to see how these heavy duty library cards will look and work for your library.
Plastic Library Bags
The bag pictured on the left is a 15" X 23" X 4 1/2" bottom gusset and a kidney die cut handle. The Friends of Libraries bag in the middle is a 15 1/2" X 19" X 3" bottom gusset with a plastic handle. The bag on the right is 13 1/2" X 13" X 3" bottom gusset and a die cut handle.

Pictured below is a 12" X 16" X 4" bottom gusset bag with a die cut handle.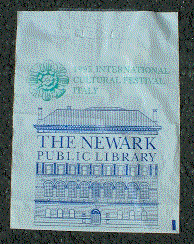 Aluminum Bookmarks
These aluminum bookmarks can be printed in full color if you so desire. They are great for awards for those that have made contributions for that special library fund or those that have given either a gift of books to the library or a monetary gift.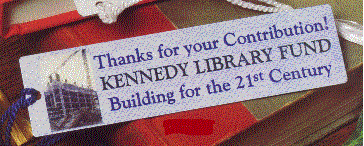 Kid's Book Backpack
This children's backpack measures 10 1/2" length X 2 3/4" X 11 1/2" high. The main compartment has a drawstring with flap and clip closure, front zippered compartment will keep those books dry. Has 1" adjustable webbing straps. Minimum imprintable quantity is only 25.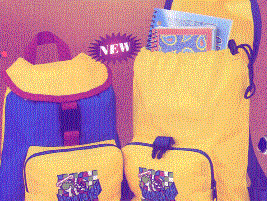 The Book Mate
Here are two great ideas to keep that book dry in an attractive book cover and is available in two sizes of 7" X 5" X 1 3/4" and a 10" X 6 1/2" X 2". The smaller version has a 5 1/2" X 2 3/4" and the larger version has an imprint area of 8" X 3 1/2". Minimum imprintable quantity is 75 and the colors of the material come in a choice of Natural, Grey, Red, Navy Blue, Tan, Royal Blue, Black, Maroon, Kelly Green and Hunter Green.