Live Support Chat 9 AM to 5 PM EST Monday thru Friday
LIGHTS
We are presenting a variety of lights for different purposes. If you have a specific need please let us know and we will be glad to send out a catalog on the type of light that best fits your needs. Email us at email donace@promotionalproductsandideas.com or don_shepherdson8@msn.com or call 800 960-9080 or 206 285-5359 for your free catalog.
Flashlight Alarm Clock
Here is a great combination a Flashlight and Alarm Clock with a minimum imprintable quantity of only 25.

Movie Camera Lamp
The Movie Camera Desk Lamp in Black Matte finish weighs 1 lb., 5.6 oz and measures 13 1/2" in length and is 7 3/4" wide and is adjustable in height from 13" to 16". It provides an imprint area of 2 1/4" long X 1 1/4" wide. It makes a great award and the minimum imprintable quantity is only one !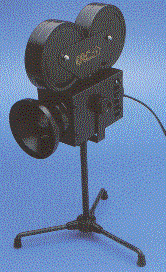 Heart Light
Is our heart light a heart shape or is it oval ? The swivel switch changes the shape of this light from a heart to an oval when the light is turned on ! It's a real eye catcher with a white nylon lanyard and is available in colors of red/white, purple/yellow and pink/purple. The Heart Light measures 1 3/4" X 2 1/2" X 1/2" and provides an imprint area of 7/8" X 3/4".The minimum imprintable quantity is 150.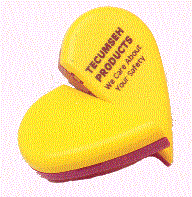 Magnifier Flashlight
This Pop-up Magnifier Flashlight called the NiteOut is an upscale, compact, pop-up magnifier guaranteed to make reading in low-light situations easier. A great addition to safety programs and promotions that put a "focus" on your client. Retract the lens into the stylish wave-design case and NiteOut doubles as a powerful flashlight. The magnification is 2X and it fits into a pocket or purse as the case is 1" X 3/4" and the lens is 1" X 3/8". Gift box and batteries are included. Minimum imprintable quantity is 50.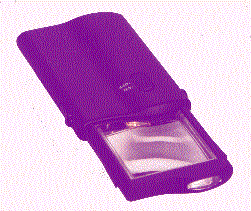 NiteOwl Travel Time
The Travel Time is a 3 in 1 digital alarm clock, bedside lamp and flashlight, It is easy to pack and keeps one from missing those early morning meetings. Great for vacationeers and business travelers alike. It doubles as a mini lamp or compact flashlight and provides a custom imprintable area of 1 3/8" X 3/4" Minimum imprintable quantity is 50.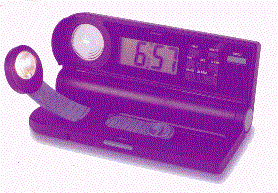 Essential Light
The Essential light is a must for every home and vehicle ! Slim but powerful with pull up top to show constant or flashing amber or brillant white beam. It has a heavy duty ABS plastic case, adjustable magnetic stand. The Essential Light is 4 5/8" X 1 3/4" and has an imprint area of 1 1/2" X 7/8" and the minimum imprintable quantity is only 50 !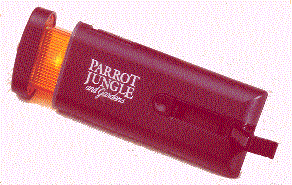 Night Watchman
Our Night Watchman is an energy saving dusk to dawn operation. It has a photo electric cell that turns the light on automatically when dark. It is UL approved. It measures 1 1/4" X 3 1/2". The front imprint area is 7/8" wide X 1 3/8" high and the sides that measure 1 1/2" wide X 1 3/8" high. The minimum imprintable area is 100.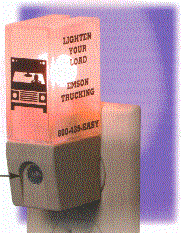 Krypton Value Plus Flashlights
Our Krypton Value Plus Flashlights are available in 5 sizes (only four shown) and offer personal lighting power to fit any promotion and any budget. Each light includes a powerful krypton bulb for a light 70% brighter than ordinary bulbs. Also included is a shatterproof lens and parabolic reflector for maximum lighting power. On the upper left measures 5 1/4" X 2 1/2" and provides an imprint area of 1 1/4" X 9/16". The flashlight on the lower left measures 5 5/8" X 1/2" and has an imprint area of 2 1/4" x 3/8". The upper right yellow flashlight size is 10" X 2 3/8" and has an imprint area of 3" X 5/8". The lower right hand corner flashlight is 7/7/8" X 2 3/8" and the imprint area is 2 1/4" X 5/8". The flashlights are available with or without batteries. The minimum imprintable quantity is 50.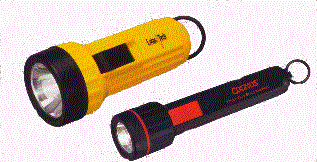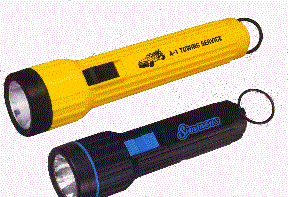 Head Lamp
Our Head Lamp measures 2 1/2" diameter X 3 1/2" with adjustable head strap. It provides an imprint area of 1 1/4" round x 13.8" horizontal. It is the most convenient "Hands Free" light ever ! It has an adjustable strap that fits all heads. The light beam can be adjusted from spot to flood. It is constructed of durable shockproof PVC. It includes 4AA Eveready Heavy Duty Batteries (nor inserted) and comes in an attractive gift box. Available colors are charcoal gray with a purple and yellow on black strap. It has a lifetime guarantee and the minimum imprintable quantity is only 25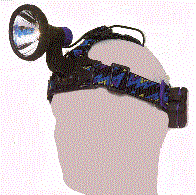 Swivel Lite
The Swivel Lite features a bi-directional head positioning that rotates 350 degrees horizontally and 135 degrees vertically. The innovative focusing head changes light intensity from broad beam to pinpoint spot. It has a spring tension clip that attaches almost anywhere for handle free use. Each Swivel Lite comes in an individual gift box. The minimum imprintable quantity is only 25.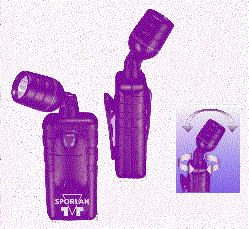 Pocket Lights
Each of our pocket lights have an extra bright, pre-focused high intentsity bulb. Included with the pocketlite are the two AAA batteries with patented conductor tube for extended lighting power and performance. The pocket lights are available in a variety of colors and the minimum imprintable quantity is only 200.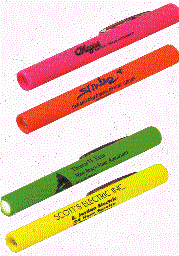 Pro-Grip Aluminum Flashlights
Brinkman - one of the most trusted names in hand-held lighting ptoducts proudly presents the Pro-Grip. These flashlights are made in the U.S.A. of the highest quality materials. They are machined from aircraft-grade aluminium and anodized for durable lasting finish, Pro-Grip flashlights are engineered to take a beating yet provide years of dependable service. Features include adjustable spot-to-flood beam, o-rings for water and shock resistance and rubber sleeve for maximum grip. The D-cell flashlights have a push-button switch with silent signaling capaability. Pictured from left to right are the 10", 12 1/2" and 17" flashlights. Each of these three flashlight presents identical imprintable areas of 1 1/4" wide X 1" high on the head area, an imprint area on the middle barrel area of 1 3/4" wide X 3/4" high. The 10" and 12 1/2" flashlights are available in black, red or yellow grips and the larger 17" light is available only with a black grip. An intereseting feature of the 17" flashlight is that it converts from a five D-cell to a three or two D-cell in seconds. When using the five cell mode the Krypton bulb provides an incredible 16,000 candlepower beam ! Minimum imprintable quantity is on 48 on any of the three flashlights.