Maps
All of the maps presented below are custom made and are printed on #1 quality, gloss-coated paper on a Heidelberg 6 color Speedmaster printing press. These high quality maps will last for years and are a great promotional premium for all types of businesses and organizations. All maps are made from the original Geographic Information System data that comes from the interpolation of satellite imagery. As these are custom made maps they can be produced for any country, any state or province, city or region.
Do you need a custom made map showing the top 100 golf courses in the USA? Or perhaps a Colorado Ski map showing the various ski resorts in Colorado. Other ideas for custom made maps could be all of the wineries in Oregon or how about a street map of London?
We are picturing below just a few of the possibilities for using maps for your business or organization.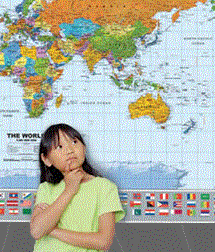 World Map - Atlantic
Measuring 36" X 24" the World Map in the Atlantic Ocean version is available in a minimum quantity of 250. Also available in a Pacific Ocean and Mid Americas version.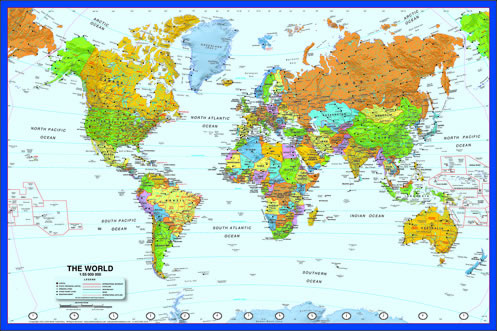 World Ports and Shipping Routes - Pacific
Measuring 36" X 24" the World Ports and Shipping Routes map is available in the Atlantic, Pacific and Americas version with the minimum custom imprinted quantity being 250.
USA Highway Map - Double Sided
Measuring 36" X 24" the USA Highway Map is full color on one side and Black and White on the back side. Students can write the state names on map using a dry erase pen. The map wipes clean with a soft cloth. Minimum quantity with an imprint is 250.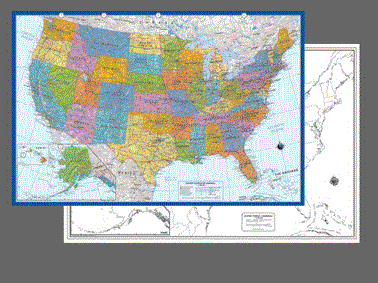 World Map Calendar
The full color World Map Calendar measures 27" X 39" with a minimum quantity of 250. All calendar products are available with any map of your choice. Maps are also available in a desk calendar format.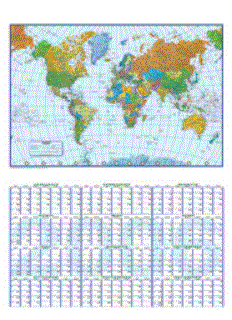 All maps are double-laminated making them fully waterproof. You can use a dry erase pen to write on the maps and wipe clean with a cloth.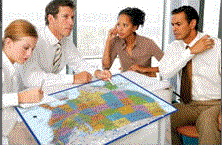 Need a Map catalog ? Just tell us what type of maps that you have an interest in and we will send you our 16 page custom Map catalog to you. Email us at donace@promotionalproductsandideas.com or don_shepherdson8@msn.com or call 800 960-9080 or 206 285-5359 (Seattle) for your free map catalog.