Live Support Chat 9 AM to 5 PM EST Monday thru Friday
Meetings, Conventions, Seminars and Retreats
Badges, Ribbons, Portfolios, Pens and Presentation Folders are just a few of the more popular items that we can do for your meeting, convention, seminar or retreat. If you have a theme we have an idea to enhance the branding of your event ! Presented below are just a few of the products and ideas that we can help you with. For a free catalog please call 800 960-9080 or 206 285-5359 (Seattle) or email us with your request to: donace@promotionalproductsandideas.com or don_shepherdson8@msn.com

Color Bar Nametag Inserts
Color Bar Nametag Inserts are the perfect way to categorize and organize your attendees ! Great for large or multi-event meetings. These color-coded nametags make it much easier to identify different segments. the 1/2" color bar leaves plenty of room to laser print the name and information on these. Plus you can also print on the color bars. Have your name and logo custom imprinted on the stock. Available in a size of 4" X 3" only. Colors amy be mixed and matched to meet the minimum order of 500 Available with or without your custom imprint

Nametag Necklace
the Nametag Necklace is available in 6 bright contemporary colors.. They are 34" long with an adjustable cord lock for a proper fit. Available colors are royal blue, black, red, burgundy, purple and navy. A swivel clip for laminated nametags with punched slot may also be added. minimum omly 100.

Wooden Nametag Organizer and Clik Case Badge Case
The wooden nametag organizer on the left holds 40 badges in alphabetical order. It makes for easy visibility of locating badges. It gives a neat appearance for the registration table. On the right the Clik Case Badge Case has a removable foam case that holds 60 badges. Each badge is spaced 1/2" apart. As your attendees arrive it is relatively easy to disburse the badges in a timely manner.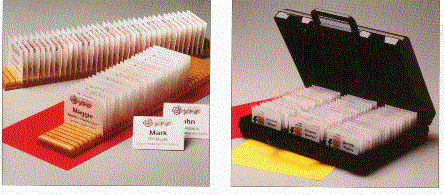 Pens
What would a meeting be without a pen ? We have many to choose from and will be glad to send you a pen catalog at no charge. Pictured below are two of our more colorful pens which will make a lasting impact on those that attend your event.


Seminar and Meeting Sets
Matching portfolio and memo folders are sure to be the hit of your event as a co-ordinated set adds to the branding and logo identification of your program. Pictured below is a matching slide lock portfolio and soft cover memo folder. It comes with a standard 8 1/2" X 11" ruled pad plus pocket to keep notes and memoranda. Both items can have your imprinted message. The portfolio measures 11" X 15 3/4" and the memo folder is 9" X 11 3/4". Available in blue, brown, black, red or white. Minimum imprintable quantity is only 50.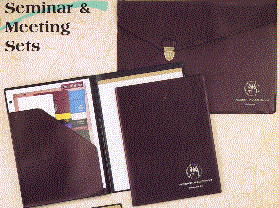 Pocket Coil Notebook
Pictured below is one of our many sizes of available Pocket Coil Notebooks. The one shown below measures 2 7/8" X 4 3/4" and has a minimum quantity of 500. Please contact us for other available sizes and a free catalog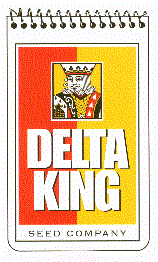 Portfolios
Portfolios are one of our most popular items for meetings, conventions, seminars and retreats. Below we have a Economy Snap Portfolio that measures 14 5/8" X 11". It features a brass snap to keep your importmant papers securely in place. Beneath it is the Zip Lock Portfolio that features a unique watertight, plastic zip lock closure with pull tab. It measures 14" X 10 1/4". Both of these portfolios are available in a variety of colors. Minimum imprintable quntity is 100.
Tri-Fold Portfolio with Calculator
This folder with a calculator is padded to give it a rich plush feel. It includes metal corners, a velcro closure and is stiched for reinforcement and a deluxe appearance. The pocket on the left is an expansion pocket and includes a calculator and a business card pocket. It measures 12" X 11" when closed. Minimum imprintable quantity is 25.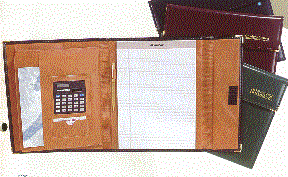 Executive Padboards
These padboards are great for taking notes and have a large are on the front cover for your custom event imptint. When open they measure 19 1/4' X 12 1/4" and when closed they are 9 1/8" X 12 1/4". Available in various colors. Minimum quantity is 100