Live Support Chat 9 AM to 5 PM EST Monday thru Friday
Office Ideas
Fat Desk Pen
Here is a very unique desk pen that is available in black, champagne or in a matte silver finish. The diameter of the base is 2 3/4" and the pen is 4 1/2" tall. The imprintable area on the base and is 1 1/4" X 3/8" while the imprintable area on the pen is 1 1/4" X 5/8". Minimum imprintable quantity is 50.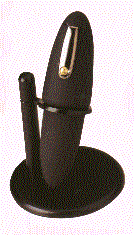 Business Card Mini File Cabinet
This mini plastic file cabinet holds your business cards and looks right in place on your desk. Has a LC built-in clock and the min file cabinets can hold up to 400 business cards and comes with alphabetical dividers. Included is a button battery. The size is 4 1/4" wide X 6" long X 6" high. The imprintable area is 1 1/2" wide X 1/2" high. Minimum imprintable quantity is only 25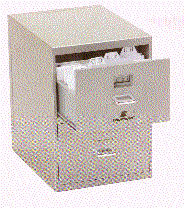 Paperclip Dispenser
These magnetic, easy to grasp, dispensing top holds clips in view, ready to use. Each dispenser is supplied with 75, eye catching clips in assorted colors. The granite-color base provides an executive appearance. The size is 2 3/4" tall and 1 5/8" square. The imprint area is 1 1/2" X 1 1/4". The minimum imprintable quantity is 150.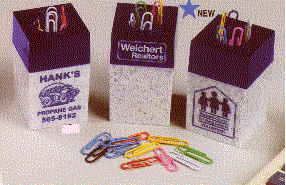 Business Card File
This business card file holds up to 72 business cards wuth six in view at one time. It is available in Jet Black, Emerald Green or Moonlight Blue. Minimum imprintable quantity is 18.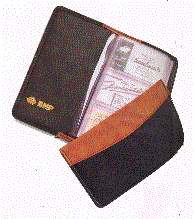 Staplers
This stapler is available in either white or black and with a minimum imprintable quantity of 150 it features an imprint area of 1 1/2" X 1/2". The actual size of the stapler is 5 1/2" X 1 1/2" X 1 3/4".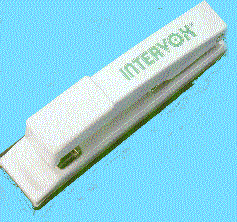 Scissors
The Mod Scissors are available in either white, blue or black. The Scisors are 5" and provide an imprint area of 3/4" X 3/4" or a 1 1/4" X 3/8". The minimum imprintable quantity is 150.
Portable Office, Letter Size
This Letter Size Portable Office come with everything needed to manage a business on the go... a 3" X 3" Post-it Note pad, ruler, stapler, paper clips, two felt tip markers, calculator and a ballpoint pen, all conveniently secured in a trifold vinyl desk folder. Also features matching interior and pockets, a letter size pad, note center, two business card pockets and one large storage pocket that folds neatly over the portable office contents. The overall size is 12" X 9 1/2" (closed) and the minimum imprintable quantity is only 25.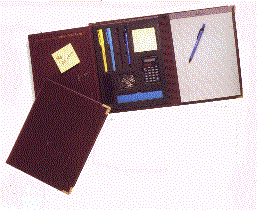 Paper Shredder and Letter Opener
This combination paper shredder and letter opener measures 7" X 4 3/4" X 6 1/8" and provides an imprint area of 1" high X 3" wide. This superior quality product has 80 metal cutting blades. Operates on 110 volt AC/DC adapter (included). Or for portable use you can operate on 3 "C" cell batteries, available at most stores. Minimum imprint quantity is only 6.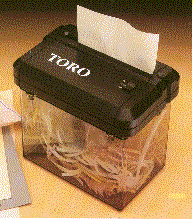 Need a catalog on imprintable office products ? Give us a call at 800 960-9080 or 206 285-5359 or email donace@promotionalproductsandideas.com or don_shepherdson8@msn.com to and we will send one to you !