Live Support Chat 9 AM to 5 PM EST Monday thru Friday
Plush
Our plush comes in all types from stuffed bears to zebras. We can do custom items or we have a large assortment of stock plush items that may fit your company needs. We are presenting below just a few of our favorites. Need a stuffed animal catalog ? Email us at donace@promotionalproductsandideas.com or don_shepherdson8@msn.com or give us a call at 800 960-9080 or 206 285-5359 (Seattle).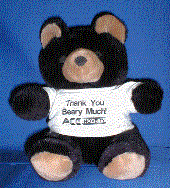 Stock Plush Items
We have many stock plush items in all shapes and sizes and they are readily available from one of our many locations throughout North America. We are presenting below just a few of the new items for 1998.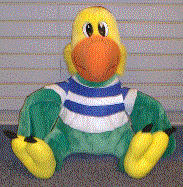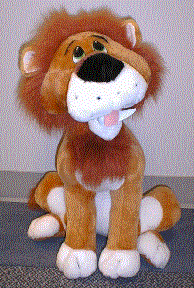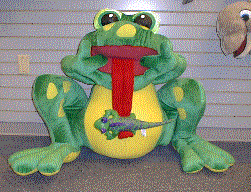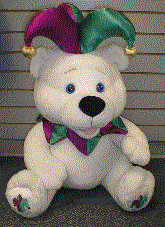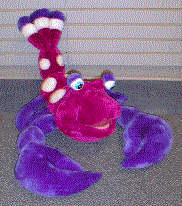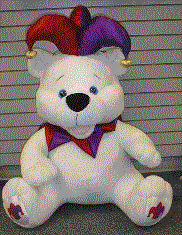 12" Bendables
Here is a new item for 1998. These 12 " Bendables each with its own individual saddle blanket has an imprint area of 1 1/2" X 1 1/2". From left to right we have the four available bendables; Horse, Cow, Giraffe and Elephant. The minimum imprintable quantity is only 36.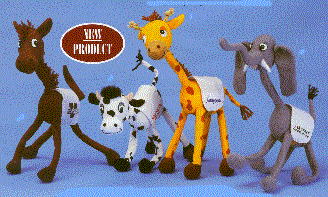 Beanie Baby Moose
The Beanie Baby Moose is only one of a lineup of stock and custom beanie babies that we can imprint with your custom imprint. Give us a call for details on how we can help you.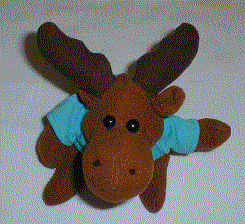 6" Message Buddies
Here are pictures of some of our most popular 6" bears. We have many styles and colors of bears and you can pick the outfit that you wish to dress your bear in. Minimum imprintable quantity is only 72 !


Accessories for Small Animals
Pictured below are some of the accessories for our small plush animals. Picture from left to right starting at the top are; Visors, Halloween Mask, Backpack, Knapback, Bandana, Cook's Hat, Graduation Hat, Santa Hat, Christmas Scarf, Bunny Ears, Neon Shorts, Golf Bag, Skis, Baseball Cap, Cowboy Hat, Pajamas, Inner Tube, Sleeping Bag, Ballerina Outfit. Minimum total quantity is 72 however you can mix the accessories as long as the total is 72.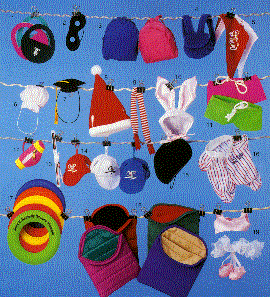 Custom Duck
Pictured below is a custom duck. We can do just about any type of mascot that you may so desire.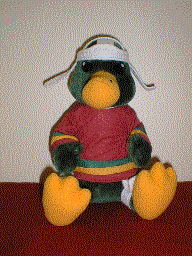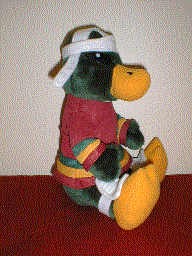 Custom Frog
Here is a frog with an imprinted tee-shirt. You choose the colors for the shirt on this one.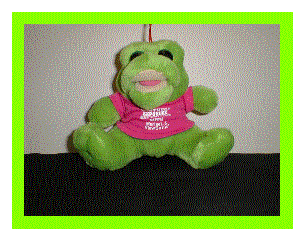 Family of Sizes & Variety of Fabrics
We can do the same plush item in a variety of sizes and many different fabrics are available. Let us know what your needs are and we will be glad to work with you.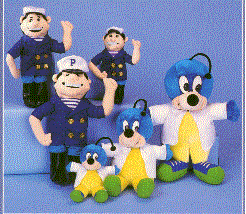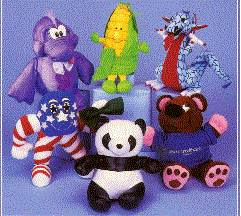 Bird & Fish Plush
Pictured below are Bird and Fish plush. We have many stock items in this area or we can do a custom item if you wish.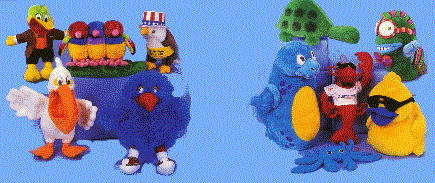 Hand Puppets
We can also do plush hand puppets and these have proven to be popular not only with kids but adults too.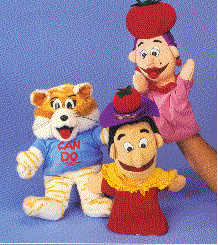 Licensed Plush
Ace Novelty has the ability to license many plush items and already has various licenses for plush. Give us a call and we can discuss your needs. Pictured below is a licensed product.