Live Support Chat 9 AM to 5 PM EST Monday thru Friday
PROMS
Need further information, a catalog or pricing please call us at 800 960-9080 or 206 285-5359 or email us at donace@promotionalproductsandideas
One of the most cherished items at a Prom is that of the various pictures that are done throughout the evening. We are presenting below just a few of the various frames that those precious pictures can be placed in.
Custom Skyline Frame
Pictured below are two different skyline frames. We have stock skyline frames or we can design a skyline frame of your city, school, etc. The minimum imprintable frame is only 100 pieces.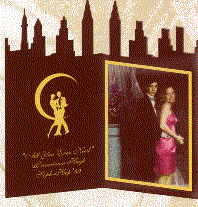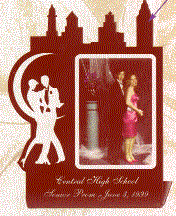 Custom Border Design Frames
Pictured below are three standard shaped frames with custom designed borders or designs. The left picture frame has the Dragon imprint in red and gold with Black background. The middle picture frame has a ship cruise theme shown with silver imprint and blue background Minimum imprintable quantity is 100 pieces.The right picture frame has a school crest with white and red imprint and a gray background.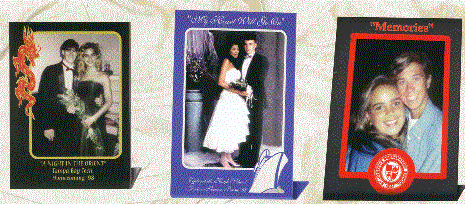 Prom Garters and Armbands
Pictured below are another great item for Proms. The Garters and Armbands are available in various colors and styles. The Leg Garters expand to 13" and the Arm Bands expand to 11 1/2". They are available in a minimum imprintable quantity of 100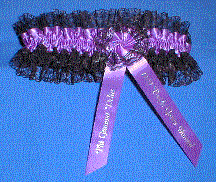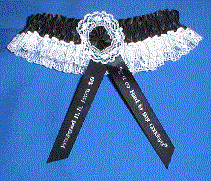 Custom Shaped Frames
With over 20 stock Prom Frames available we can also custom design the frames with your school mascot, insignia, crest or other customized requests. Pictured on the left is an example of a custom frame with the school mascot on the left. The picture size is 4" X 6". On the right is a heart shaped frame motif with red, black and white background. Minimum on either of these items is only 100 pieces.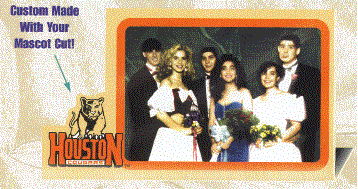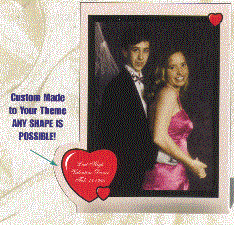 Here are three more different frame ideas for your consideration. The left picture frame has a star imprint on each side of the frame in white on a black background. The middle picture frame has a castle cutout shown in black with a gold background. And the far right picture frame is white with black background. Minimum imprintable quanity is 100 pieces.

Prom Key Tags
Here is another popular idea for Proms-key tags made from aluminium or brass imprinted with the info on that special Prom. Minimum custom imprintable quantity is 250.