Live Support Chat 9 AM to 5 PM EST Monday thru Friday
SAFETY
Presented below are just a few of the safety related products and ideas. For a catalog dedicated to safety related items only either leave us email at donace@promotionalproductsandideas.com or give us a call and we will be glad to send out one to you. Our phone number is 800 960-9080 or 206 285-5359.
Hard Plastic Reflector Tags
For over 30 years the Scandinavian people have been trained to carry and use reflectors when out in the dark. As a result, their nightime safety record is enviable. In Norway, Sweden, Denmark and Finland, the rate of deaths and accidents in the dark is less than half of ours here in the United States.
Examples of usage include a spring give-away to student vacationers by a Board of Health, company give-away at a summer "Safety Picnic", back- to- school present to all employee's children, zipper bags for night skiers and "Have a Safe Holiday Season" for all employees. Reflector safety is for all seasons.
The hard molded reflectors are available with a variety of dangling string styles, plus a split ring for key tag use and a badge clip/hook for clipping to outer clothing.
Sizes and shapes vary and the minimum imprintable quantity is 100.

Carbon Monoxide and Combustible Gas Detector
SafetySiren Carbon Monoxide and Combustible Gas Detectors possess state-of-the-art sensor technology with a powerful 85dB "dual sound" alarm. Every detector has compuerized calibration to help eliminate false alarms.
Carbon monoxide is a non-discriminatory killer. Don't take chances with your family. Easily plugs into any standard 110-120 AC electrical outlet and samples the air every 25 minutes. Each unit is approved with UL's latest detector specs. Each unit has a 5 year warranty. These are great safety items ! Each unit has an imprint area of 3 1/2" X 1" high.Minimum imprintable quantity is 25.

Safety Theme Litterbags
We have many stock Safety Theme litterbags that you can also have your imprint on to promote safety for holidays, summer vacations, fire prevention and home shows. Pictured below are just a few of the stock bags that we can provide to you. The minimum imprintable quantity is 1000.

Battery Booster Cables in a Bag
This strong, durable, low-profile vinyl case fits into the trunk or other vehicle storage compartment and uses only a minimum of space. It keeps those all important booster cables protected, neatly stored, and ready for use. 8 foot cables, (10 gauge, 200 amp) Minimum imprintable quantity is 25.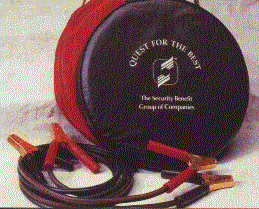 Smoke Detector
This Smoke Detector can be installed on a ceiling or mounted on a wall. It includes a dual ionization chamber to provide a more accurate raeding. It is a very compact 4" in diameter with a "push to silence" feature for kitchen use. It has an imprintable area of 1 1/2" wide X 1 1/4" high . Minimum imprintable quantity is 25.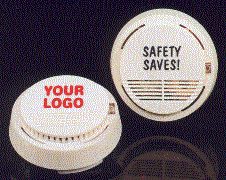 Compact Highway Emergency Kit
The Compact Highway Emergency Kit contains a tire inflator/sealer, safety flare, powerful flashlight (requires 2 "C" batteries-not included), distress flag, tie-down strap,and a touring manual. The case can also be used to carry water in case the radiaror overheats. Minimum imprintable quantity is 25.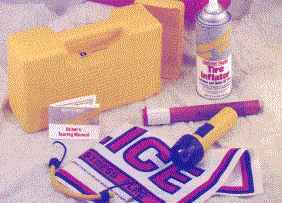 Personal Protection Alarm
Personal alarm protection at your fingertips. Made from high grade plastic, this personal alarm fits into any purse or hooks onto your keychain. The high pitched alarm will sound wheb trigger cord is pulled. The red warning light will alert passerby for possible assistance. Single 9 volt battery operated. The imprint area is 1 1/4" wide X 9/16" high. Minimum imprintable quantity is 25.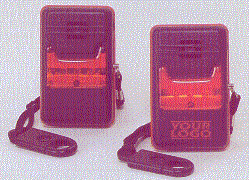 Emergency Roadside Toolkit
This 30 piece Emergency Kit comes in a heavy duty gray carrying case and includes all that you will need for roadside repairs; 2 booster cables, 2 screwdrivers, 1 6" slip joint plier and 3 first aid elastic adhesive bandages. It is also equipped with 6 assorted fuses, 2 disposable work gloves, 1 spinner handle, 9 1/4" drive sockets, 1 tire pressure gauge, 1 roll of PVC tape and 1 emergency triangular sign. The imprint area on the case is 2" wide X 2" high. Minimum imprintable amount is 25.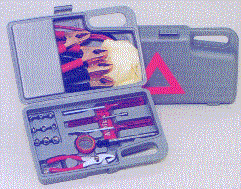 Safety Slogan Pennants
Here are just a few of the safety slogan flags that we can provide for you. Pictured below are various pennants that are 12" X 18" and come in a 60 ft. string. The material is yellow with black copy and are made of 4 ga. virgin polyethylene plastic.

Six Day Survival Kit
Our 6-Day Survival Kit has an insulated vinyl bag with convenient shoulder strap holds 6-day supply of emergeny food rations and 12 water pouches (5-year shel life, U.S. Coast Guard approved) plus first aid supplies, flashlight, 2 "D" batteries, 2 Kleenex tissue paackets, and survival blanket. The double zippered tote is refillable and can also be used as a cooler. Valuable gift or premium, especially popular in areas affected by hurricanes floods and earthquakes.