Live Support 9 AM to 5 PM EST Monday thru Friday
SKIING AND SNOWBOARDING

With the surging popularity of snowboarding and the always popular sport of skiing we are presenting some products and ideas for your consideration. Whether it be for your resort, ski club, ski school or snowboarding club we would like the opportunity to chat with you about the various promotional products that are available and how you can use them to enhance your image and marketability of your services and products in the skiing and snowboarding industry. For pricing and information please call 800 960-9080 or 206 285-5359 (Seattle) or emil donace@promotionalproductsandideas.com
Ice/Heat Bandana
The bandana has an instant heat insert for cold weather winter use and also can be used with ice on those hot summer days. It measures 35" X 2 1/2" and is available in Gray, Blue, Pink and Red. One size fits all and it provides an imprint area of 5" X 1 1/2". Minimum imprintable quantity is 100 and they are less than $ 12.00 each.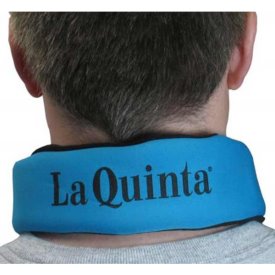 Snowboard Keytag
The 2 1/4" X 1 1/2" Snowboard shape keytag can have your full color imprint on the tag. Minimum order is only 125 and they are less than $ .65 each.

Snowboard Wax
The 3" container of all temperature wax is shrinkwrapped and can be custom imprinted. Minimum order is 100 and they are less than $ 4.00 each
Skiing and Snowboarding Rubber Ducks
Both the Skiing rubber and Snowboarding rubber ducks measures 3 1/4" X 2 3/4" X 3" and provide an imprint area of 1 1/8" X 1/2". In the minimum of 50 they are less than $ 2.85 each.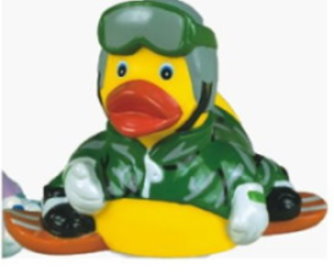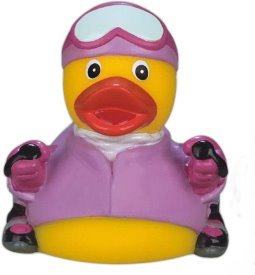 Ski Boot Carrier
Designed to carry a pair of ski boots or rollerblades the Ski Boot Carrier provides an ample area for custom imprinting. Less than $ 1.50 each in the minimum of 250.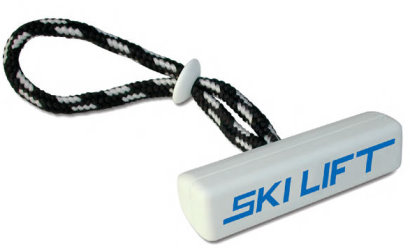 Ski/Snowboarder Rectractor Reel
The Ski Retractor Reel is great to hold your annual ski or snowboarding pass. It comes with a 29 1/2" cord and is 1 3/4" in diameter. Available in Black, Blue, Dark Green, Red and White. It provides an imprintable area of 1 1/16" diameter. Less than $ 4.00 each in the imprintable order of 100.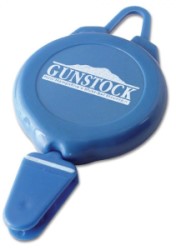 Snowboard Shaped Bottle Opener
The Snowboard shaped bottle opener is made of anodized aluminium and provided an imprint area of 1 1/2" X 1/2" on the top or 1" X 3/4" on the bottom. They are available in colors of Black, Blue, Gold, Green, Purple, Red and Silver. Less than $ 2.00 each in the minimum order of 250.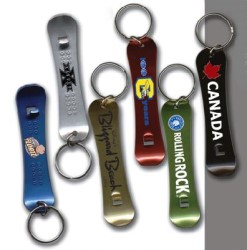 Snowboard Theme Picture Frame
The Snowboard Theme Picture frames holds a 5" X 7" photo and it has a snowboarding snowman design laser engraved at the top of the frame. Available in Maple, Cherry or Alder wood. Your custom imprint goes at the bottom of the frame in an area of 1 1/2" X 2 1/2". Less than $ 30 each in the minimum of 12.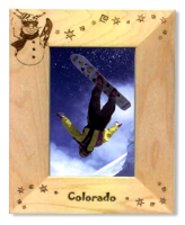 Cold Weather Kit
The cold weather kit consists of 1 sunscreen pocket, 2 lens wipes, 4 bandage strips, 1 blistex pocket, 1 pocket tissues, 2 cough drops, and 1 package of hand warmers. Available in Black, Navy, Red and Royal Blue the kit measures 6" X 4 1/2" and the imprintable area is 4" X 2 1/4". Less than $ 9.50 each in the minimum imprintable quantity is 50.

Ski and Snowboard Plus Animals
Our Plush Winer animals 9" in heighth and are available in the minimum quantity of 48. Please note that these are non-imprintable items. Call 800 960-9080 or email us for availability and current pricing.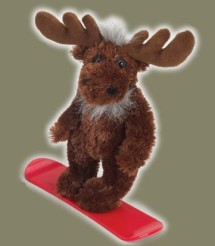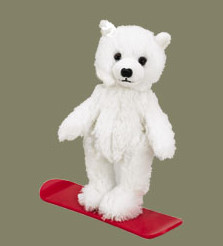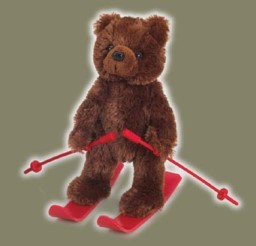 Skier Tuque
This liitle guy is great for conventions and trade shows. Pick your colors and attach a ribbon with your custom imprint . Less than $ 1.85 each in the minimum quantity of 150.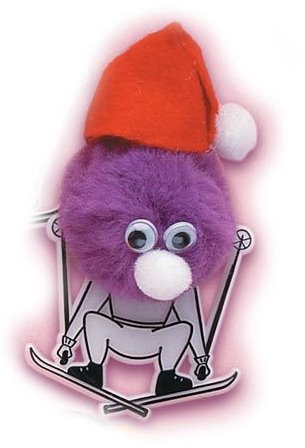 Ski Bib
With a low minimum order of only 100 our race bibs provide a 4 3/4" impint area on the bib size of 8 1/2" X 8 1/2". They are less than $ 4.35 each in the minumum of 100.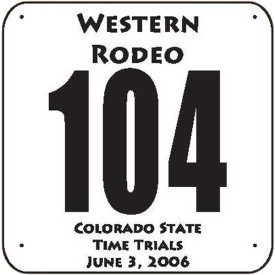 Kid's Ski Bag and Boot Bag
An economical way for your kids to carry or store their skis, boots and accessories. Made of 420 denier nylon with sturdy carry handles. Fits skis up to 155cm and pole. The bag dimensions are 12" X 8" X 14". Available in colors of Red and Royal. Minimum custom imprintable quantity is 144. Please call us at 800 960-9080 for current availabilty and pricing.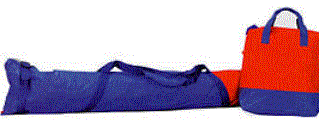 Windsock Cap With Pom
You can choose the colors and imprint what you want on this Windsock Cap with Pom with over 30 standard colors available. Minimum imprintable quantity is only 60. Call 800 960-9080 for current pricing.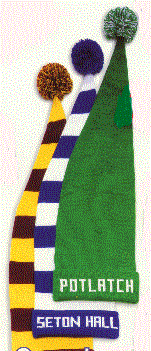 Thermometers
Presented below are three thermometer key chains or they can be used as a zipper pull. These are items that are very visible and increase the awareness of the individual using them as to the possibilty of hypothermia, overexposing their skin to ultraviolet light and their general well being when they are in the colder climates while enjoying their favorite sport of snowboarding or the various types of skiing.
The 1 1/8" X 2 1/2" thermometer that reads Geico Insurance also has a built in mini-compass. This item is actually ideal for other outdoor activities all year long such as hiking and other related activities. With addition of a wind chill chart on the back side of this item there is added reason to use this item for your next outdoor promotion. Less than $ 7.50 each in the minimum quantity of 100.
The thermometer that reads Sun Check (middle picture) will indicate, along with the outdoor temperature, a circle that shows the intensity of the suns rays, with a light to dark blue response. This is especially important for those that are outdoors in the spring months when the sun is shining. This item gives you a quick indication as to when you should be protecting yourself from the sun. The minimum quantity with your imprint is only 100.
The pictures of the seven thermometers on the far right are standard thermometers however this item or either of the other thermometers can be enhanced by putting a stock chart on the backside. The Wind Chill Chart has a windchill chart that is great for skiers, snowboarders, hikers or anyone else that spends a lot of time outdoors. Less than $ 2.25 each in the minimum of 250.
The Heat Index chart indicates the danger zone relative to temperature and humidity. Also available is a Target Heart Rate chart that features a heart rate chart to help track optimal target heart rate while exercising. This option is an ideal for people that need to keep their hearts under control.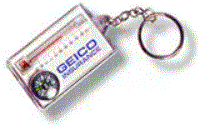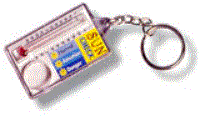 Knit Stocking Caps
Our stocking caps truly stand out in a crowd with over 30 colors available for you to present a great image for your company, resort or club. These are machine washable and made of premium quality domestic turbo-spun acrylic yarn. Minimum imprintable quanity is 60. Please call 800 960-9080 for availabilty and lead times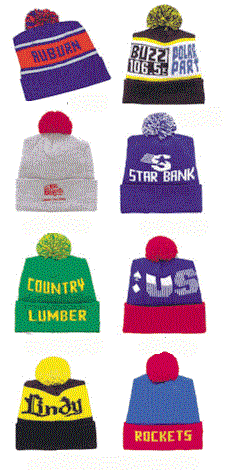 Ear Bands
Our Ear Bands are available in a variety of patterns, styles and colors. Standard sizing for headwear is one size fits all, with youth, preschool and infants sizes available as an option also. Minimum order custom imprintable order is 60.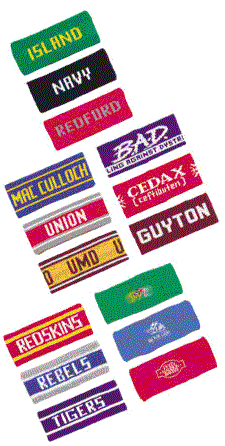 Ski and Snowboard Benders
Our benders are posable magnetic wire figurines. They have magnets in their hands and feet so they stick to anything metal. They com in their own individual imprintable tins. Pictured below is the Snow Ski Bender that has an imprint area on the tin of 1 1/4" wide X 7/16" high. Less than $ 8.00 in the minimum quantity of 150.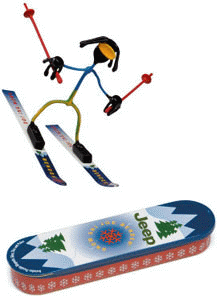 Snowboard and Ski Adventure Benders
The Adventure Snowboarder and Skiier have an imprintable area of 2 1/2" wide X 5/8" high on the side of the tin. Minimum order with an imprint is 150 and they are less than $ 8.00 each..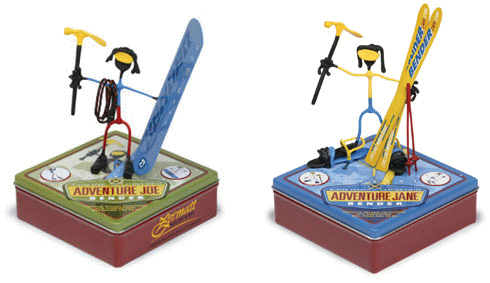 Snowpack Backpack
Carry all your equipment to the mountain with ease. The Snowpack is a versatile backpack that allows you to attach your snowboard, skiboards or snowshoes on the back or sides. The unique patented IN-PAK boot carrying system allows you to store your boots in a special padded compartment while the main compartment offers plenty of room to store the rest of your gear.
Other features include special compartments inside to hold a hydration system and a portable CD player. The hydration hose or headphone wires fit through a special grommet hole for easy access while in use. Padded back and shoulder straps along with a sternum and waist belt make the pack easy to carry. Inside mesh compartment allows damp gear to dry. Constructed of heavy weight, water resistant 600D fabric. The dimesnsions are 21"X 14" X 7". Available in Black/Red, Black/Grey. Minimum imprintable quantity is 144.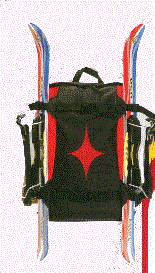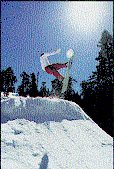 Cross Country Ski Caps
For those cross-country ski treks you may wish to consider looking at our selection of ski caps that could be a great fund raiser for your group, resort our club. Again these are available in a variety of colors with your custom logo.The minimum order is 60 .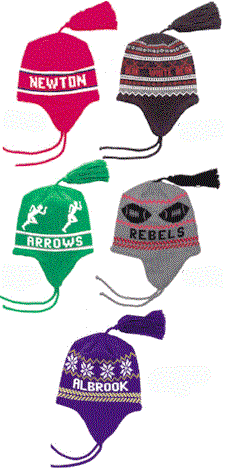 Infant/Newborn Caps
Infant/newborn caps are sure to keep those precious little ones warm, happy and healthy in even the most inclimate conditions. Minimum quantity for the Infant/Newborn Caps is 144.
Mittens
Available in both youth and adult sizes the minimum imprintable quantity is 60 .
Ski Bags
Here is a deluxe Ski Bag that measures a full 80" X 7" X 7" (203 X 18 X 18 cm). It is made out of PVC coated 420 denier nylon. The body of the bag is fully padded with 3/16" foam. It has a zipper opening along the length of the bag.. Also illustraded below is our less expensive single ski bag that is 90" X 10" (229 X 25 cm). It features 1 1/2" webbed straps around the ski bag which are used to tighten skis in place. Top flap opening is used to insert your skis with a 1 1/2" webbed strap to fasten cover. These bags come in various colors and the minimum with your custom imprint on either of these bags is 50.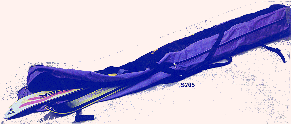 Snowboard Bag
The Snowboard Bag is 68" in length X 16" wide and is made of 600 denier. It comes with a drawsring closure, detachable padded shoulder strap, and adjustable compression straps. It is available in solid Black or a Red/White color combination. Minimum imprintable quantity is 50.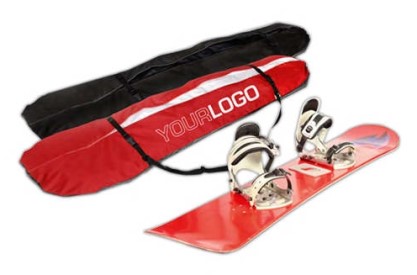 Bootbag
This Ski Boot Bag measures 15" X 15 1/2" X 9 1/2" gussett and has a poly board in the bottom of the bag. Available in a variety of colors. Minimum imprintable quantity is 50.
Lip Balm and Ultra Sun Block Stick
Here is a good fund raising idea and product for your ski school, club or ski resort. Don't let chapped lips and parched skin ruin an otherwise great day frolicking in the snow ! Consider our line of imprintable SPF 30 balms and ultra sun lock sticks. Provides an imprint area of 3/4" high X 1 1/2" wide. Minimum imprintable quanity is 250.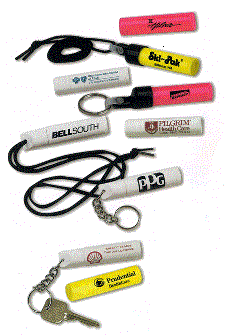 Whiskit Snowbrush/Ice Scraper/First Aid
This is a great winter item as it is a combination snowbrush, ice scraper and also comes with one packet of sunblock SPF15 and two blistex ointment packets ( 3 1/4"X 3"). Available in colors of Red, White, Blue, Sparkle, Bright Yellow or black. The size is 6 3/16 long X 2 7/8" wide. The imprint area on the item is 1" high X 2" wide. Minimum imprintable quantity is 250.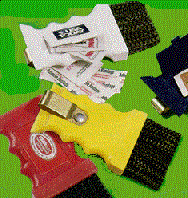 Skiing and Snowboarding Snow Globes
The Snow Globes are stock and the minimum without a custom imprint is only 5. For a custom imprint please call us at 800 960-9080.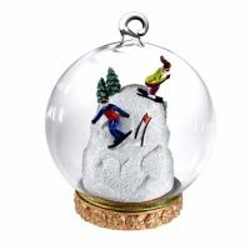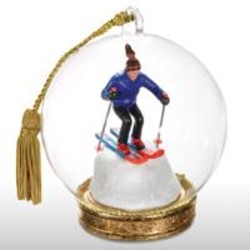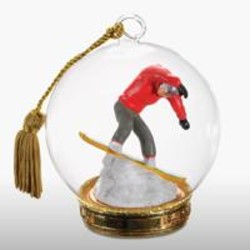 Have a question about these or other snowboarding or skiing items please call us at 800 960-9080 or email us at: donace@promotionalproductsandideas.com