SOUND ITEMS
With the rapid advance of technology we are now able to offer an abundance of imprintable promotional items that feature various sounds and music that will enhance the promotional efforts for your business or organizations. We are presenting below just a few of the items with sound chips that we have to offer to you. Please note that the wav files that can be heard in several of the items pictured below are quite large and may take a longer length of time to load if you choose to activiate the sound chip on the pictured items. You may also wish to hear a variety of music and sounds on the toll free number listed at the bottom of this web page.
The Original Telephone Ringing Sound Card
This item is perhaps the first and most popular item that is available with a sound chip. When you open the card up it has a place for your business card and is a great door opener for salespeople to leave rather than just a standard business card. Available in minimum quantities as low as 50. Just slip your business card in and it is ready to go ! To activate it online just move your cursor over the business card and you can hear how it can work for you. It measures 4 5/8 X 3 1/8" (closed)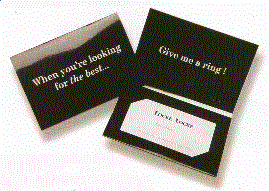 Sound & Talking Keychains
It's amazing how something so compact can deliver with such impact. The Sound & Talking Keychains allow you to program a sound of your choice or your original 10-second message, whith combined with your logo imprint, creates a powerful selling tool or leave-behind piece. With a variety of sounds to choose from your logo will be enhanced and long remembered ! Minimum quanity is 500. When you place your cursor on the middle key tag (Digital imprint) you will hear a sound of a race car just one of the many sounds that you can choose from !

Millennium Music Cards
The Millennium Musical Cards have songs that are sure to have you tuned into the new year. The cards measure 5 1/4" X 3 1/2" and your business card fits inside. Our three must popular tunes are Sprach Zarathustra, Fanfare For the Common Man and Auld Lang Syne.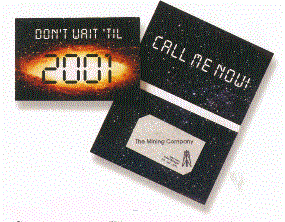 Musical Holiday Greeting Cards
We have several stock Musical Holiday Greeting cards available. When the card is opened you hear the Holiday musical selection that you have chosen and the customer will also see your business card. These Greeting Cards measure 5" X 7" when they are closed and we have many selections of Holiday Music to choose from. Minimum quantity is only 50. When you put your cursor on the Seasons Greetings wording you will hear a holiday melody.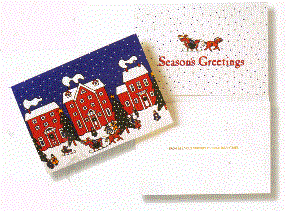 Sound and Talking Calculators
Audio identify your logo every time you turn the calculator on. Choose a sound or melody from the over 100 selections in the sound library or you can record a personalized 10-second message. The dimensions are 4 1/2" X 4 1/2" X 1 1/4" and your custom imprint can appear in an imprint area on the calculator of 1 1/4" X 1".The calculator comes complete with four AAA batteries and is packaged in a white gift box. Minimum imprintable quantity is 250.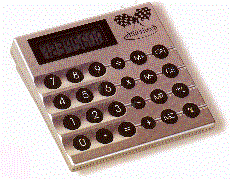 Fire Engine Card
Our Fire Engine Siren with Business card insert is sure to be long remembered by your customers when you present it to them with your personal company business card inside the card. The card measures 5 1/4" X 3 1/2" and has a minimum quantity of only 50. To activiate and hear the siren just put your cursor over the business card.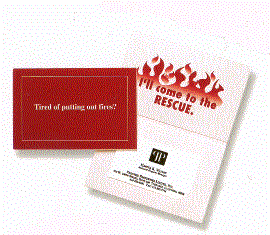 Laptop Computer, Moving Truck and Cellular Phone
We have many stock cards that all use the telephone ringing sound chip format. Your business card just fits inside the stock card and you are ready to go. Here are three of our more popular ones. Minimum quantity is only 50. The Laptop Computer size is 5" X 4" (closed), Moving Truck measures 6 1/2" X 4 3/8" (closed) and the Cellular Phone measures 7 3/4" X 2 3/4" (closed).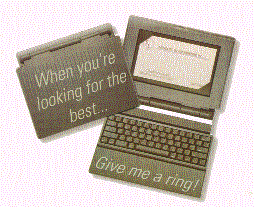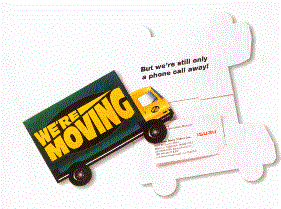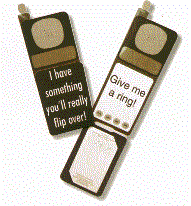 Have an interest in how sound chips can help your business or organization ? You are invited to call us at 206 285-5359 or email us and we will be glad to send you our free catalog on sound chip items. Wonder what sounds might be available ???? We work closely with Clegg Industries and they have provided a phone number that you can dial and listen to many of the available sounds that you may have an interest in. We have listed below some of the various sounds that are on the voice phone number that you can call. Please only ten sounds per call. When you call just follow the brief instructions and enter the three digit code number listed below in order to hear and evaluate the sounds of your choice.
The phone number to hear the sounds is 800 327-3937
The list provided below has just some of the various sounds that are available for you to hear.
110-Telephone Ringing, 111-Car Horn, 112-Cash Register, 113-Cow Mooing, 114-Coyote Howling

117-Rooster Crowing, 118-Telephone Busy Signal, 119-Cuckoo Clock, 120-Sneeze, 121-Train

122-Call To The Post, 124-Fanfare, 127-Semi Truck, 128-Applause, 130-Beverage Pouring

131-Championship Ole Cheer, 132-Countdown: 5,4,3,2,1,Lift-Off, 134-Charge Sound at Sporting Event

135-Children Giggling, 136-Drum Roll, 137-Fire Engine Siren, 139-Golf Sounds, 140-Indy Car

141-Ocean:Waves & Seagulls, 142-Ship Horn, 143-Slot Machine, 144-Sports Car

145-Appalachian Spring, 147- Entry of the Gladiators, 148-Fanfare for the Common Man, 150-Fireworks Sounds

151-Jet Take-off, 153-Messiah-Hallelujah, 156-Sabre Dance, 158-Talking" Hello" in 11 languages

159-Talking "Thank You" in 11 languages, 160-William Tell Overture, 161-America the Beautiful

162-Battle Hymn of the Republic, 163-God Bless America, 164-Hail to the Chief, 165-Stars & Stripes Forever

166-Star Spangled Banner, 167-Washington Post, 168-Auld Lang Syne, 170-Sprach Zarathustra,

171-Joy to the World, 172-O Christmas Tree, 173-Silent Night, 174-The First Noel, 175-We Wish You a Merry Christmas

216-Silver Bells, 176-Adults Laughing, 177-Motorcycle, 178-Thunder, 179-Traffic Sounds, 180-Stampede

181-Lion Roar, 182-Doorbell-3 rings, 184-Door Knock-3 knocks, 217-Jungle Sounds, 186-Big Band,

187-Blues, 188-Country, 189-Disco, 190-Jingle Bells, 191-Dixieland, 192-50's Rock and Roll

193-Island Music, 194-Jazz, 195-Mariachi, 196-Mambo, 197-Merengue, 198-Pomp & Circumstance

199-Reggae, 200-Rhythm & Blues, 202-Salsa, 202-Samba, 203-Swing, 204-1812 Overture

205-Beethoven's 5th, 207-Here Comes the Bride, 214-Taps, 215-Wedding March, 216-Silver Bells
We can put chips of your choice in many items that include fortune cookies, letter openers, mousepads, pens, teddy bears and wall calendars just to mention a fewof the various possibilities ! For more information and pricing please call us at 206 285-5359 or email us a tdonace@promotionalproductsandideas.com