Live Support Chat 9 AM to 5 PM EST Monday thru Friday
SUNGLASSES
We have many types of imprintable sunglasses available and are presenting just a few of those that are available below. If you would like more information or have a question on Sunglasses please give us a call at 800 960-9080 or 206 285-5359 (Seattle) or email to donace@promotionalproductsandideas.com or don_shepherdson8@msn.com
Logo Lens Sunglasses
Presented below are pictures of custom imprinted lens with the imprint visible only to the person looking at the wearer of the sunglasses. When you wear the sunglasses you can see thru them without the imprinted lens being visible.These are a great way to attract attention for your business, product, team or organization.The lenses are made from shatterproof polycarbonate, and block 100% of UVA and UVB. Any design you may want to print can be put on the lenses and also the temple of the sunglasses can be imprinted. They are available in either traditional Black frames or color frames. Both Adult and Kids sunglasses are available. Minimum imprintable quantity is 150.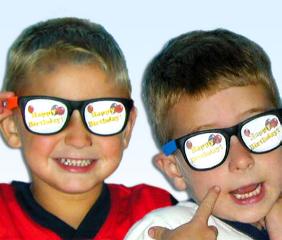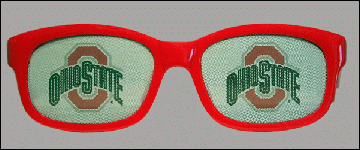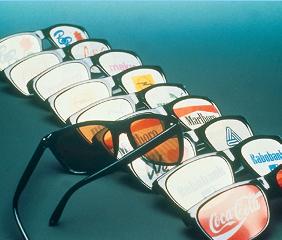 Frame Imprinted Sunglasses
Pictured below are sunglasses with the frame imprinted. Avaialble in temple colors of Neon Orange, Neon Pink. Neon Yellow, Neon Green, Blue, Red, White, Black, Purple and with front frame colors available in Black, White, Read and Blue.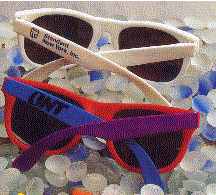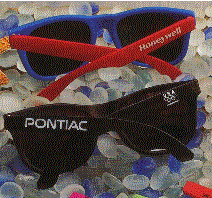 Kids Sunglasses
Our rubber frame Kid's Sunglasses are great for kids from 3-10 years of age. Available in super dark or logo lens. Both are UV Protective and Shatter Resistant. Available in assorte frame colors of Blue, Green, Yellow, Pink or Orange.