Live Support Chat 9 AM to 5 PM EST Monday thru Friday
Swimming
Swimming
Dive on in and take a look at just a few of the items that we can provide for your resort, swim club, YMCA, YWCA or any other aquatic venture that you may have a need for promotional imprinted merchandise for. This is just us sampling of what we can do for you. Give us a call at 800 960-9080 or 206 285-5359 (Seattle) or email us atdonace@promotionalproductsandideas.com or don_shepherdson8@msn.com for hundreds of other ideas.We would like to be in the swim of things with you for your next promotion !
Spongex Kickboard
Shown below are two kickboards . The red board on the left is 11 1/4" X 20 1/2" X 1 1.4" thick and is available in either red or blue. The red kickboard is also available in a smaller size of 10 1/2" X 11 1/2" X 1 1/2 thick.
The blue kickboard is made out of polyaminated foam board and is both soft and stiff. It is an ideal board when it is used as an aid to learn to swim. It has a white interior with a blue top and bottom.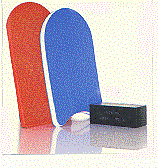 Floatable Retainer For Eyeware
These floatable eyeware retainers greatlly reduce the risk of you losing either your eyeglasses or sun glasses while enjoying your favorite water sports. A small piece of latex tubing provides a secure grip directly on the rear of each earpiece. Simply wet ends of latex tubing and slide on. Once applied they will remain attached during all water-sports action. This is a great item for swim clubs and resorts and can be sold with the company name and logo emblazoned unto the retainers as pictured below. The minimum with an imprint is only 150.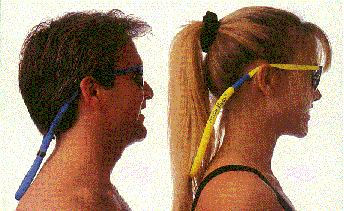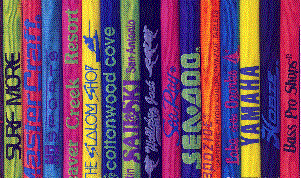 Beach Balls
Our Inflatable Beach Balls are sure to please both the company that is either selling them or giving away plus the actual user will be excited to really be able to get in the swim of things with our heavy gauge vinyl inflatable beach balls. We have these available in 16" (32" circumference when inflated), 20" (40" circumference when inflated) and 24" (48" circumference when inflated) Panel color combinations of 3 white panels, alternating neon yellow, neon pink and neon orange. Your advertising in black on a white panel. Copy area on the 16" is 5" X 3", 7" X 4", 7" X 4 1/2". Minimum imprintable quantity is 150.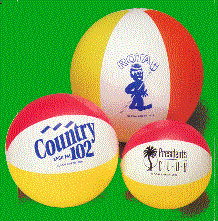 Mini Pool Float Cup Holder Life Preserver
The mini- life preservers are actually used in a swimming pool to keep your favorite beverage afloat while you enjoy the water. These items are 9" in diameter and can hold up to a 16 oz. can in the center area of the life preserver.and are available in various colors. Minimum imprintable quantity is 200.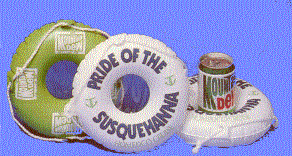 Sun Protection
Here is a Fun in the Sun protection kit that is perhaps just as important to have with you as your swimming trunks. We have many types of sun protection lotions that we can imprint for you and the kit presented below has a minimum imprint quantity of just 100. It features refillable bottles of PABA free SPF-15 sunblock, SPF-3 sun lotion and after sun lotion all designed to offer you maximum protection from the sun's ultra violet light rays.. The actual size of the container is 3" in diameter providing you with an imprintable area in a 1 1/2" diameter on top of the cover.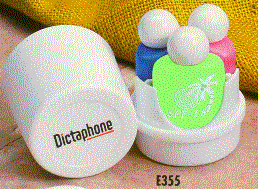 Sun Protection on a rope
The unique water-resistant case provides hands-free portability and keeps contents safe, clean and dry. The colorful plastic tube has a screw-on lid with vinyl gasket and 36 inch neck cord attached. It contains 2 bandaids, moist towelette and 3 SPF-15 sunscreen packets. The holder is great for putting money and keys in after you have used its contents. It is available in colors of neon pink, neon yellow, neon orange and neon green. and the case size is 1 5/8" X 4 1/2" X 1 5/8" with an ample imprint area on the case of 4 1/4" X 1 1/2". Minimum imprintable quantity is 250.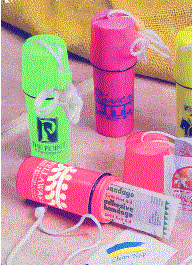 Kanaka Beach Game
Going to the beach and looking for a non-water activity for after swimming ? Kanaka may be just the item for your group. Kanaka consists of 2 wooden paddles, a rubber ball and a carrying net. The size is 14" X 8" with an imprintable area for your message of 6" X 3". Minimum imprintable quantity is 150.