Live Support Chat 9 AM to 5 PM EST Monday thru Friday
Volleyball
We have many items that we can put a volleyball design on however we have pictured below just a few of the more interesting items that are directly related to volleyball. Give us a call at 800 960-9080 or 206 285-5359 (Seattle) or email us at donace@promotionalproductsandideas.com
Scrunchies
Our scrunchies are available in a variety of sports as pictured below. With the imprintable minimum of 250 the Volleyball Scrunchie is a great fund raiser and lets people know that they are volleyball fans !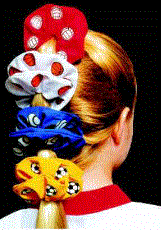 Soft Volleyball Playball
The 4 1/8" Volleyball Playball is made of heavy duty soft foam. It looks just like a volleyball and provides an ample imprint for your message. Minimum imprintable quantity is 100.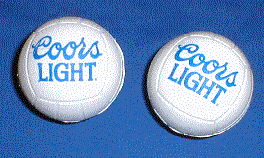 Volleyball Waist Pack and Hat
On the left is the Volleyball Waist Pack that has a large center and two zippered side pockets that provide ample storage area. On the right is the matching Volleyball replicap made from PVC material that has metal eylets for ventilation. It also has an adjustable velcro back strap for a more perferct and comfortable fit. The minimim imprintable quantity on either the Waist Pack or Hat is only 24 pieces.
Volleyball Lapel Pin
We can do a variety of various size lapel pins for your association, club or tournament. With a minimum quantity of 100, lapel pins are always well received. Pictured below is an example of a stock volleyball design.
Volleyball Clipboard
Our Volleyball Clipboard is a great item for coaching clinics, awards and volleyball associations. The Clipboard is available in either a 9" X 16" or 9" X 13" and can be imprinted on a choice of round clips, square clips, rectangular clips, wire clips, metal clips or a calculator clip. The board clipboard has an eraseable coating and even the front where the volleyball lines are on in the picture can be imprinted.. Also the back of the clipboard can be imprinted too. The minimum imprintable quantity is only 50. We also have Sports Clipboards for Basketball, Baseball, Bowling, Field Hockey, Football, Hockey, Racquetball, Soccer and Tennis. These Clipboards are in color and all have the line markings of that particular sport.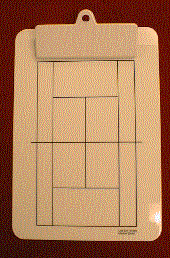 Volleyball Yo-Yo
Our imprintable volleyball yo yo is available in a minimum imprintable quantity of 250 and is great for youth volleyball exchanges.