Baseball Chairs
With a glove like this you will never miss another fly ball again! The big mitt is really a hard plastic chair. It measures 34" X 26" X 24" and has a minimum order of only one.

The baseball bat stool is 32" tall and has a 14 1/2" cushioned synthetic leather seat. Each stool weighs 12 pounds. A full color custom decal can be emblazoned on the seat in a 9" area. Minimum custom imprinted quantity is twelve.

Here is a Baseball shaped beanbag chair that measures 33" X 28" X 30" and it can be custom embroidered with up to 10,000 stitches. Minimum custom imprinted order is twelve.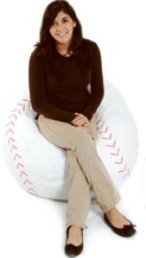 This synthetic leather black baseball glove chair has brown accents and measures 33" X 38" X 28" and can be embroidered directly on to the seat area in up to 12 colors. Four sturdy legs make for comfortable seating for sports fans of all sizes. Minimum non imprinted order is one and minimum order for custom embroidered chair is four.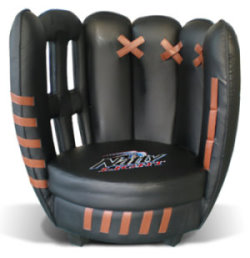 For current pricing information on a product you are invited to call us a 800 960-9080 or 206 285-5359 (Seattle) or email us at donace@promotionalproductsandideas.com or don_shepherdson8@msn.com