Smart Phone Glove
What a great product for those cold weather days when you need to text, phone, or check and send those all important emails. The Black Smartphone gloves have a seamless knit and a special conductive silver thread on the first fingers and thumbs and are medium weight. You can use any touch screen device without taking your gloves off! Stretchy knit fits most hands. Minimum order with your custom imprint in the 2 3/4" wide X 2" high area is 240 and they are less than $ 8.50 per pair.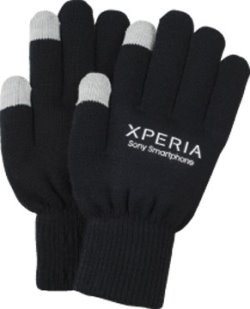 As the Smartphone Glove is relatively new product Black is the only color available in the 3 to 4 week shipping time. However if you want the same smartphone glove in another color we can obtain them in a minimum order of 3000 and also the delivery time is considerbly longer. The other available smartphone Glove colors are Coffee Brown, Pink, Red, Light Blue and Yellow.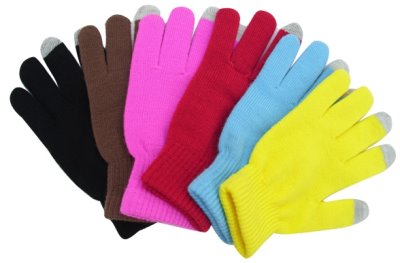 We also can do the following custom umprinted gloves: Chore, Cotton Canvas, Cotton Jersey, Cowhide Split Leather, Deerskin, Driving, Fingerless, Fleece, Freezer, Garden, Goat, Golf, Kids, Kitchen, Leather, Mechanic, Oil Field, Recycle, Rubberized Fabric, Safety, Ski, String Knits, Welders, Wool, Women and Work Gloves.
For other types of gloves that can be custom imprinted please visit our Gloves website at http://www.promotionalproductsandideas.com/GLOVES.HTM
For more information and current pricing on our Smartphone Gloves or if you hve questions on other types of gloves that can be custom imprinted you can call us at 800 960-9080 or 206 285-5359
or contact us at donace@promotionalproductsandideas.com or don_shepherdson8@msn.com