Live Support 9 AM to 5 PM EST Monday thru Friday
Boating

Sailboat replica with clock
This elegant miniature sail boat features a 5 function digital clock and an imprint area of 1 5/8" circular.. Minimum imprintable quantity is only 100 and its a great award item for sailboat races and race volunteers.
Boating Caps
Here are four popular boating hats and caps that we can imprint for your nautical event. On the left is the sailor cap next we have the two different versions of a yacht cap and on the far right is a Greek Fisherman Hat. All of these can have your custom imprint.

Boat Floats
These soft boat floats also can be used as a stress reliever. They are 1" thick and float in water. Pictured below are just a few of the various stock shapes that are available. We can also do a custom shape if so desired.. Minimum imprintable quantity is 250.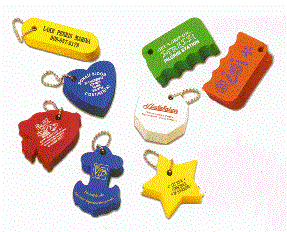 Floating Sports Light
Here is a Coleman floating sports light. Great year around gift for both boating and hiking folks. This light has a bright concentrated beam and all-weather outer shell. The light floats with switch and bulb pointing up. The light is 5" high X 8 1/2" in length X 4 1/4" wide. It operates with Eveready 4 D cells, has a Argon 4.8 volt, 0.5 amp bulb and provides an imprint area of 3" wide X 7/8" high. The minimum imprintable quantity is 24.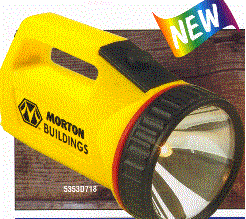 Custom Yacht Club Flags
Your Yacht Club or personal signal will be rendered in 100% nylon, with sewn or printed design to your specifications. Available in various sizes and small quantities. Mail or Fax us your logo, design and colors for a prompt quote.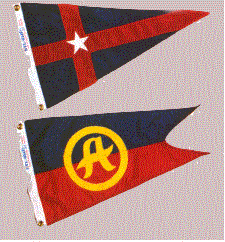 Boating First Aid Kit
This Boater's First Aid kit includes the U.S. Coast Guard approved distress flag. The other contents are five large adhesive bandage strips, two medium adhesive bandages. Antiseptic wipe, Cotton balls, two First aid creams, latex gloves, mouth rescue breather, Boating first aid instruction and the Boating distress flag. The kit measures 11" open X 8 1/2" when it is open and closed the dimensions are 8 1/2" X 5 1/2". The imprintable area is 3" X 6" with the minimum imprintable quantity being 250.
Boat Totes
Here are four Boat Totes that are great for promoting all kinds of boating activities. The two bags featured at the top are the Promotional Boat Tote measuring 12" wide X 15" high with a 7" bottom gusset. The imprint area is 5" X 8".. The yellow bag is at the lower left is the Classic Boat Tote that measures 11 1/2" wide X 12" high with a 5" bottom gusset and an imprintable area of 4" X 7". . The Bag on the lower right side measures 11 1/2" wide X 13" high with a 6" bottom gusset and features an imprintable area of 7" X 7". Minimum imprintable quantity is 75 and of course you can choose the bag colors and handle colors of your choice.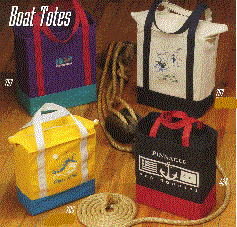 Boating Distress Flag
This daylight distress signal complies with U.S. Coast Guard requirements and it stores nicely in a clamshell case. The open size is 3' X 3" and it closes into a 7" X 5". The imprint area is 6" X 4 1/4" and the minimum imprintable quantity is 100.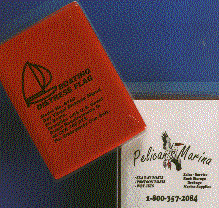 Key Saver
The Key Saver is a perfect promotion for boat shows, marinas, boat & motor sales, repair shops, and jet/ski boat rentals. They will think of you everytime they turn the key ! No fear of losing your keys in the water as the Key Saver enables 2-3 keys to float. A 1 1/4" circle imprint area is available with your choice of either a green or red top. Minimum imprintable quantity is 250.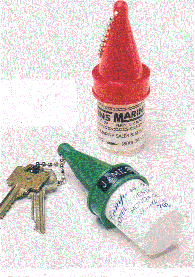 Boating Decorations
Having a Boating theme party we have all types of boating decorations for your consideration. Pictured below are just a few of those that are available. Give us a call, FAX or email us and we can send you a decoration catalog.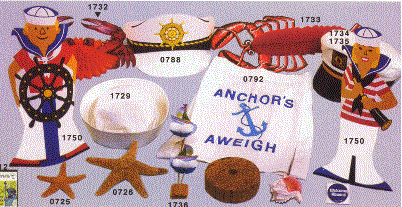 Identi-Buoy
This key float has a storage area where you can put money, matches or keys. You can personalize the top of the Identi-Buoy with a labelmaker. The bottom section snaps open to reveal a water tight storage area. The bottom part provides an imprint area of 1 1/8" X 3 1/4" with the minimum imprintable quantity being only 150.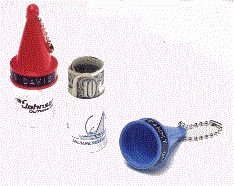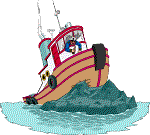 Need a special nautical item or idea please call us at 800 960-9080 or 206 285-5359 or email us at donace@promotionalproductsandideas.com or don_shepherdson8@msn.com
For the top boating website featuring the latest boating and fishing website please visit Boating Obsession at