Live Support Chat
Christmas
We can provide many types of items for corporate Christmas gifts or Company Christmas partys. We have listed just a few of the holiday ideas that may fit in with your needs. Please contact us for your specific needs and we will be glad to try and help you. Call us at 800 960-9080 or 206 285-5359 (Seattle). Email us at donace@promotionalproductsandideas.com or don_shepherdson8@msn.com for information or catalogs.
Holiday Tree Mug
Here is a stock design mug that you can add your imprint to a custom imprint area of 3/4" X 2 1/2" or a complete wraparound area of 6 3/4". Minimum imprint is only 72. You can fill it with assorted fruit sour balls or Holiday peppermints available in green, red or white.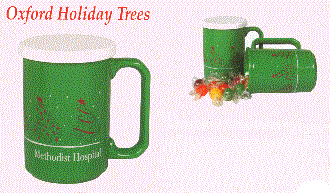 Personalized Chocolate Greeting Card
Here is a chocolate greeting card that you can personalize to send to your clients or friends. The minimum is a quantity of only 12 and it measures 7 1/2" X 4 1/2" and is a 3/4 pound of delectable decorated pure milk chocolate that is not to be forgotten by the gift recipient. Your 12 letter imprint would appear in place of the name that appears in the yellow icing. Shiping weight is one pound per chocolate card.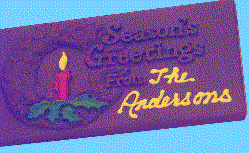 Candy Filled Holiday Stockings
These sweet treats are available in either a Holiday Stocking of 6", 8" or 12" with your Custom header card on the top of the candy-filled stocking.. Great for company Christmas parties !. Minimum imprintable quantity is only 100.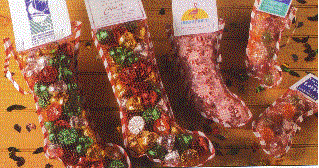 Santa Hat
This Santa Hat is in red polyseter with white plush trim and the minimum imprintable quantity is only 72.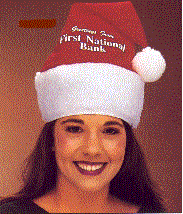 The Christmas Beenie Bunch
Here are three of our most popular Christmas Beenie plush and you can get as low as 72 with your custom imprint. The bear on the left is 14" when it is standing, the Beenie Moose is 7" sitting and our good friend Santa Beenie is also 7" when he gets a chance to sit down.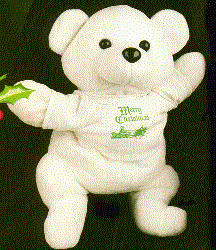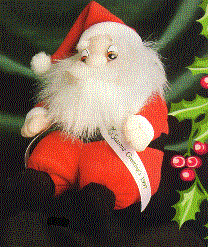 Christmas Stockings
Your company or organization will get the hang of it with these Christmas Stockings that can have your imprint on. Available in three sizes of 6", 10" and 14" they are great for Company Christmas parties and can be filled with your choice of various Holiday treats. Minimum quantity with an imprint is only 72.

Minature Christmas Tree
These minature Christmas Trees are two years old and are shipped in a box that is in an imprintable 3 1/2" X 3 1/2" X 16" box. The actual tree is growing in soil in a small plastic pot. The minimum imprintable quantity is 100.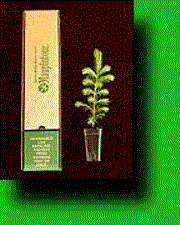 Christmas Stencil
Kids will just love this Christmas stencil. Its great for shopping centers, kids clubs or just about any other area that kids are involved in. It measures 7 1/2" X 5" and has an area of 3 3/4" wide X 1 1/4" high.. The stencil is made of 23-gauge poly and is available in colors of green, red or white. Minimum imprinted quantity is 500.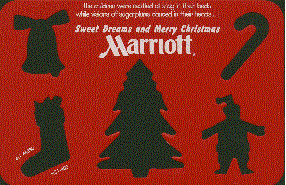 Holiday Candy
Bottles filled with insert of your choice and includes a 1 color imprint on the label. The Plastic bottles are made from recyclable plastic with twist off cap & gold shrink overcap. Glass bottles are sealed with cork and gold shrink overcap. Your choice of red & green chocolate gems, jelly beans, red hots, multi-colored popcorn or regular popcorn.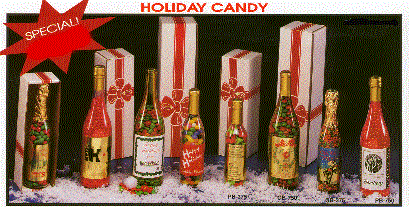 Snowman Stress Ball
Put the squeeze on this Snowman Stress Ball ! You can imprint this with your company name and it is sure to be one of the most popular gifts of the season !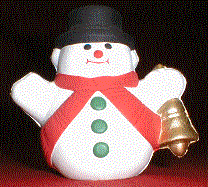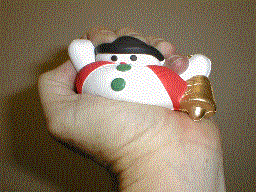 Mini-Christmas Bags
Here are three mini-Christmas bags that are great to put candy or any other treats. They each measure 5" X 7" with a 2" bottom gusset. And yes you can imprint them with your company name or organization name. Minimum imprintable quantity is 250.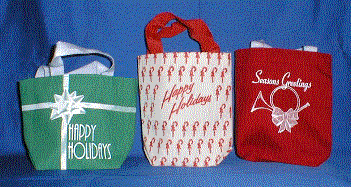 Three Dimensional Christmas Ornaments
Pictured below are a custom made three dimensional ornaments that measure 2 1/8" in diameter. The top four ornaments are stock ornaments while the single ornament at the bottom is that of a custom ornament. Minimum on these is only twelve.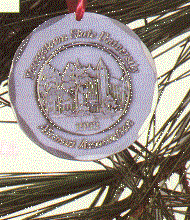 Holiday Fruit
We have many food related items that are tasteful corporate gifts for that all important customer. Pictured below is our Holiday Fruit Assortment with exceptionally sweet and plump fruits. These are carefully picked, dried, glazed, then hand-packed, creating a most colorful pattern. It's almost too pretty to eat, but the fruit is too tasty to pass up. The illustrated one and one-half pound decorative tray of dried fruit comes packaged with our Walnut and Maple cutting board that can be firebranded with your custom imprint.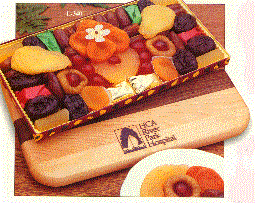 Small Christmas Bear
This small Christmas bear is fully dressed for the season and your custom imprint on the front adds to the festive atmosphere that always develops when this item is given out to the lucky recipients. He stands only 5" high but will be long remembered as that very special gift at the Yuletide season. Minimum quantity is 100 with your custom imprint.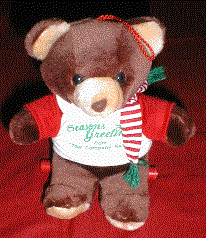 Christmas Weepuls
Here are four different Christmas weepuls that you can imprint the ribbon with your Christmas message. From left to right we have pictured an angel, elf, snowman and a reindeer. We also have various types of Santa weepuls available that we can imprint also. Minimum imprintable quantity is 250.

Wooden Christmas Ornaments
Our wooden Christmas ornaments are available in stock shapes of church, school, house, barn, tree, ball and heart. All ornaments include a drilled hole and are individually bagged with a length of red, blue or green ribbon. The average sizes of the various shapes is about 1 7/8" X 2 1/8". Minimum imprintable quantity is 250.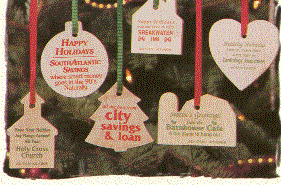 Shiny Ornaments
These 3 1/4" ornaments are available in satin, gold, Christmas red, Christmas green, white, dark blue (PMS 5534), royal blue (PMS 286) and shiny gloss silver. Each ornament comes complete with a display box. Minimum imprintable quantity is 100.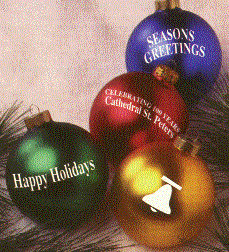 Kids Christmas Stickers
Kids will find all kinds of uses for these Christmas stickers. The stickers come in a variety of Holiday themes. The sehhet sticker sizes are 3 1/4" X 7" with an imprint area at the top for your imprint is 1/2" X 2 3/4".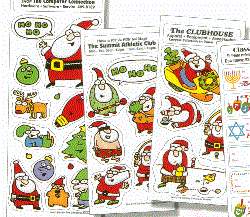 3M Christmas House Post-It Pad
The Christmas House Post-It pad pictured below comes with 50 sheets to a pad and the actual pad has a 3 5/8" base and is 3/4" high. You can imprint at the bottom or perhaps you may wish to use a half-tone of your company logo in the middle of the pad. Minimum imprintable quantity is 250

Candy Canes