Live Support Chat 9 AM to 5 PM Monday thru Friday
GARDENING
Gardening is one of the most popular leisure activities in the United States. According to the 2002 National Gardening Survey 79% of US households or 85 million households participate in one or more types of do-it-yourself indoor and outdoor lawn activities. Consumers spend an average of $ 466 per household on their lawns and gardens in 2002. In the past five years total lawn and garden sales have increased at a compund growth rate of 8%. From 1997-2002 lawn and garden sales increased from $ 26.6 billion tin 1997 to $ 39.6 billion in 2002. We have attempted to give you just a few promotional ideas and products related to gardening. Need a gardening promotional item or catalog call us at 800 960-9080 or 206 285-5359 (Seattle) or email us at donace@promotionalproductsandideas.com
Need even more ideas and Gardening products? Please visit our Seeds, Plants and Trees website at http://www.promotionalproductsandideas.com/SEEDS.HTM
Five Piece Gardeners' Tool Set
The Five piece Gardeners' Tool Set consist of a cultivator, large trowel, small trowel, spray bottle and pruner with a wrist strap. The case that holds the items is 11 1/22" wide X 7 /2" high X 2 3/4" in depth. The imprintable area on the outer part of the case is 4" X 2" with a minimum imprintable quantity of 50.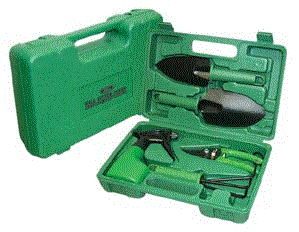 Garden Knee Pad
The Garden Kneed Pad is made from foam with hanles and measures 17" X 7" X 1" and provides an imprint area of 12" X 5" with a minimum imprintable quantity of 96.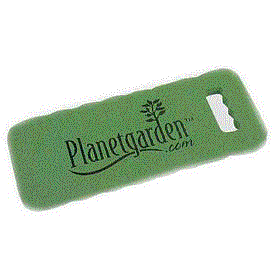 Moisture Meter
The secret to healthy plants is just the right amount of water. Insert moisture snsor into soil near roots. Light flashes when plant needs water. Includes a 70 hour button battery. The imprint area is 1" on the flasher. Minimum imprintable quantity is 100.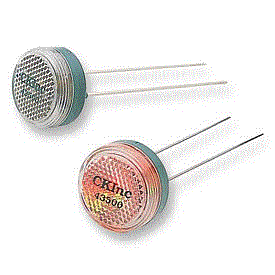 Watering Can
Available in either Red or Blue this 1 1/2 quart Water Can is plastic and comes with a convertible sprinkle or pour spout. Imprintable area is 2" diameter and the minimum imprintable quantity is 144.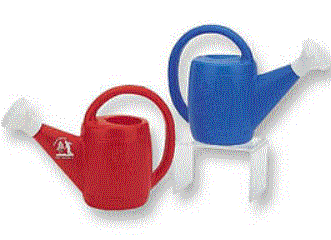 Pistol Grip Nozzle
The Pistol Grip Nozzle has an adjustable metal nozzle, with green plastic comfort grip and spray lock. The imprintable area on the handle is 2" X 1/2" with the minimum imprintable quantity being 144.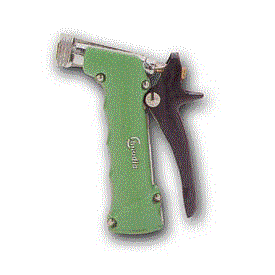 Pruning Saw
This twelve inch steel saw blade on the Pruning Saw has its blade fold into its hardwood handle. Can be screen printed or laser engraved in an area of 3" X 1" on the handle. Minimum imprintable quantity is 120.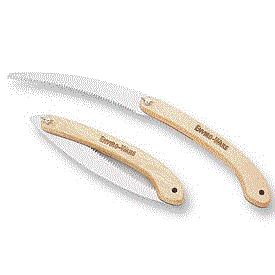 Blue Spruce Trees
Help your image grow with blue spruce trees. These low-cost Blue Spruce live seedlings or Gro-Kits can help promote your business and help re-green America. Ideal for trade shoes, bank and retail promotions, grand openings, fund-raisers and more. The Live Tree Seedling comes in a 10" tube or a 10" bag and provides an imprintable area of 1 1/2" X 3 1/2" on the label.. The Gro-Kit includes a 2 1/2" plastic pot, tree seeds, fertilizer stick and peat moss growing medium. The imprint area is 1 1/4" circle or oval. Minimum quantity is 250.

Green Planter
This 24" Green Planter is a sharp looking cedar planter that makes a container for your most colorful flowers. This is a great item for Gardening Clubs to use as a fund raiser. They are 27" X 10 1/2" X 8" and each weighs 6 1/4 pounds. Minimum imprintable quantity is only 6.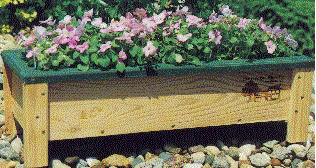 6 oz. & 12. oz. Grow Cans
Grow Cans are a living reminder of your thoughtfulness. If you wish to send an environmentally friendly keepsake the Grow Can is the perfect gift. Each container is wrapped with your custom label and secured with a metal pop-top lid. Everything needed for starting a mini-garden is inside; potting soil, seeds ( stock seeds include Zinnias, Marigolds and Coleus) and directions.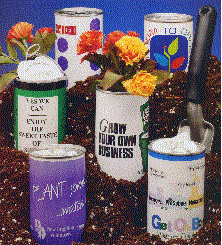 Garden Gloves
These garden gloves are specifically designed for garden or nursery related industries and sized for ladies only. The top glove is the Ladies Floral pattern with PVC dots and the lower glove is the Ladies Printed Jersey glove. Minimum imprintable quantity on both of these pairs of gloves is 72.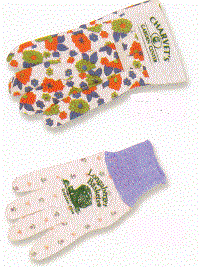 Garden Boss
This item will grow on you ! Proven by plantsmiths, florists, landscapers, botanists, irrigation and plant maintenence companies. Available in green only. The size fits a 5 gallon bucket with an extensive imprint area of 12" X 4". Minimum imprint is only 25.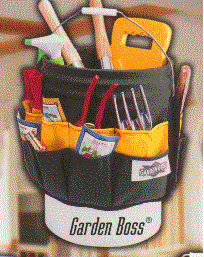 Water Gauge
This 6" standard tube rain gauge is a real hit with both gardeners and nurseries. The actual size is 5" X 10" and the imprint area is 3" X 4 1/2" and the minimum imprintable amount is 100. You can have a four color process imprint on this item and it looks great.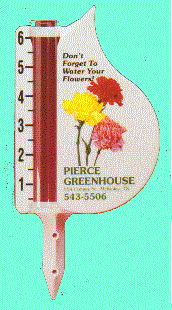 Customized Pots
These Terra Cotta and Plastic Pots can be imprinted with your imprint in a minimum quantity of 144. They range in size from a 4" to a 9" pot. The #30 terra cotta pot is a 4". The #31 is a terra cotta 6". The #32 is a 7" terra cotta pot.. The #33 terra cotta iis a 7" Angel Pot which is printed on the rim. The #34 is a 9" Sand Jar or Wine Crock in terra cotta. The #35 is a 4" terra cotta Wash Pot. The #36 is a 5" Square plastic pot with a clip on saucer. The #37 is a round 4 1/2" Plastic pot with a clip on the saucer.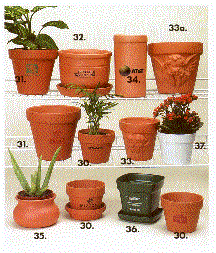 Hanging Copper Planter
This tapered cedar hanging planter filled with blooming color will make outdoor decks and patios come alive. Each Planter is 11 1/2" X 11 1/2" X 6 3/4" and weighs 3 1/2 pounds. Minimum imprintable quantity is only 6.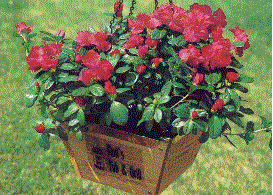 Imprinted Seed Packets
We have many varieties of seed packets that you can have your custom imprint on. Pictured below is the Money Plant (Lunaria). We have flowers, herbs and vegetable seeds available for your imprint. Minimum imprint quantity is 250. Call us at 800 960-9080 or email us for our complete list.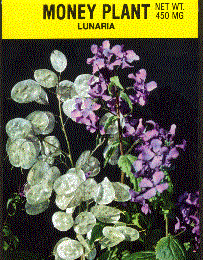 Mini-Plant Rake and Spade
These minature pair of a plant rake and spade are great for your indoor gardening needs and look great with your custom imprint. Minimum imprint is 250 and the imprint area is 1" X 3/4".

Garden Tote
The Garden Tote makes an attractive planter or can be quite useful for keeping garden tools organized. It measures 18" X 17 1/2" X 11 1/2" and weighs 4 1/2 pounds. Minimum imprintable quantity is 6..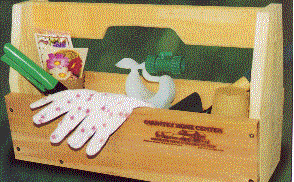 Gardener Tool Set
This three piece tool set is great for tooling around in your garden. Consisting of a combination Trowel, Cultivator and Weeder all made from chrome plated steel and with sturdy oak handles. Comes with a Heavyweight garden apron with two pockets to carry your tools. Minimum imprintable quantity is 12.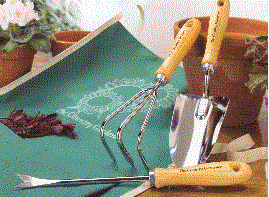 Organic Cans
Organic Cans send an environmentally correct message that your clients will appreciate. The can comes with potting soil, seeds and directions, everything needed for planting ideas and the"growing" or "grow with us" message. Use your imagination and you're sure to come up with a winning theme for a promotion with this eye-catching item. Your logo can be pad printed on the can to customize your gift. Netting and hang tags are available for distinctive packaging. Minimum imprintable quantity is 250.