Live Support Chat 9 AM to 5 PM EST Monday thru Friday
Seeds, Flowers, Plants and Trees
Promotional seed packets, flowers, vegetables, tropical plants and live trees for your promotional needs. Hundreds of choices available for your consideration. Presented below are just a few of the products and ideas that can be used for your "Green" promotions.
Have a question or need a catalog or current pricing call us at 800 960-9080 or 206 285-5359 or email us at donace@promotionalproductsandideas.com or don_shepherdson8@msn.com
Low Cost Imprinted Gro-Kits

Give your customers the gift of color and beauty with these low cost complete Gro Kits. Each kit comes with a 2 1/2" plastic pot and provides an imprint area on the pot of 1 3/4" X 1" in an oval area. Each kit comes complete with impregnated seeds as well as plastic growing container and a lid that doubles as a saucer. Your custom imprint and logo will be on display for over 6 months as the flowers or plants bloom and grow on your client's desk. Available in Aloe Vera, Blue Spruce, Cactus, Carnation, Daisies, Marigolds, Money Plant, Palm Trees, Red Peppers, Shamrocks, Sunflowers, Thyme and Zinnias. Plus many other varietys are available. Just ask for your favorite. In the minimum quantity of 150 these are $ 2.49 each.

Custom Imprinted Seed Packets
Available in quantities as low as 250, custom imprinted seed packets are an inexpensive way to advertise your business or organization. They are great mail outs and trade show giveaways appreciated by one and all. Available in a Flower series and Vegetable series just ask us for more information or a sample. In the minimum quantity of 250 they are available for only $ .98 each per packet with your custom one color imprint and in the 500 quantity the price drops to $ .64 per packet.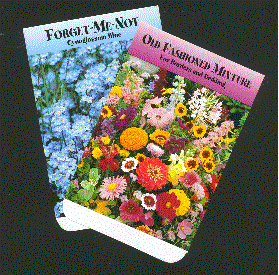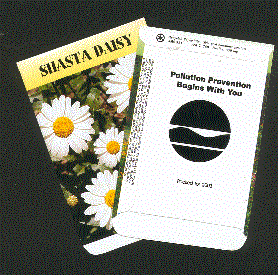 Mini Plant Kits in Terra Cotta Pots
You may choose from fifteen different mini plant kits all of which have packets of soil and seeds tucked inside and covered with a saucer tied on top with raffia or ribbon bow. There is a decorative trim and gift card and also complete growing instructions are on the back. Each kit is bubble wrapped and packed into a white gift/mailer box. The imprint on the side of the pot measures 1.7" X 1.2". Available in Sunflower, Herb, Pansy, Forget-Me-Not, Marigold, Daisy, Hummingbird Flowers, Butterfly Flowers, Pine Tree, Flower Bulbs, Jalapeno Pepper Plant, Ornamental Pepper Plant, Wild Flower, Blue Spruce or Red Oak Tree. Minimum imprintable quantity is 240. Please call for current pricing

Ad Ornaments with Seeds
These Ad Ornaments have seeds imprgenated into the ornament. Perfect for a handout announcing growth, change or simply to give a beautiful gift. Simple and lovely, these shapes and ad ornaments are made from handmade paper which is embedded with seeds and plant material. A raffia tie is attached for hanging in an office, home or in a tree. Available as a Chile Pepper, 8 point - Sun Daisy, 5 Point Star - Peppermint, Snowflake - Basil, Heart - Forget Me Nots, Dolphin - Cosmos, Star of David - Parsley, Angel - Delphinium and Butterfly - Wildflowers. In the minimum of only 100 they are $ 1.60 each.The seed papers are 100% recycleable and actually grow herbs, flowers and vegetables when planted. Plant an idea, a message or a thought today!

Plantable Bookmarks
With a variety of stock shape bookmarks or a custom shape these bookmarks can actually be planted right into the ground after using as a bookmark. Your custom logo and text message can be imprinted on the bottom of the bookmark. Pictured below the Bookmarks are: Butterfly - Wildflower, Dog - Buttercrunch Lettuce, Cat - Catnip, Airplane - Rocket Larkspur, and in the second grouping of pictures the Cross - Forget Me Nots, Star - Thyme, Palm Tree - Scarlet Flax, Dove - Lavendar and the House - Basil. In the minimum quantity of 100 they are $ 1.80 each.
We have a 20 page catalog that we can send you that has all the varieties of the seed papers for your consideration. Just email us at donace@promotionalproductsandideas.com

Shaker Cans
Beautify your community with these colorful wildflowers that come in our exclusive shaker cans - complete with your custom imprint. Ideal as a way to help promote a new product that customers will"go wild about", a a way to show that a company is "wild about their employees", as trade show gifts, bank promotiona, medical & wellness programs, etc. These unique 4 1/4" tall X 2 1/2" diameter Shaker Cans will constantly remind your customers of your thoughtfulness as they watch fields of fragrant flowers bloom in front of their eyes year after year. The entire can can be customized to your specifications or you can use one of our many stock designs and drop in your text and logo. They are enough Wildflower seeds in each can to cover about 500 feet. Just sprinkle out the seeds from the can and add water for your very own colorful garden. Then you can covert the can into a pen and pencil holder. In the minimum order of 150 the price ranges from $ 2.69 to $ 2.99 each depending upon the seeds that you choose.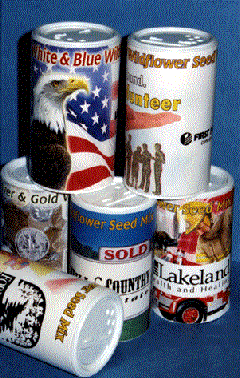 Imprinted Live Colorful Potted Tropical Plants
Bring the bright colors and warmth of the tropics right to your clients with these hardy indoor plants. They are the ideal gift for prospects and customers. These assorted live tropical plants keep your imprint and logo visible all year. Each lush plant is 6" to 10" tall and comes in a 3 1/2" White plastic pot with your imprint on the 2 1/2" round label. In the minimum quantity of 50 the price ranges from $ 4.99 to $ 8.99 each depending upon the size.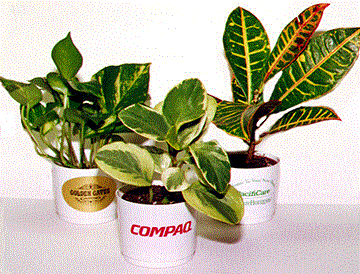 World's Largest Tomato, Pumpkin, Sunflower and Christmas Tree
These seeds will grow into Giant Tomatos, Pumpkins, Sunflowers and Christmas Trees. Each 3 1/2" X 2 1/2" clear poly bag is filled with one easy to grow peat pellet with the selected seed impregnated into it. Your imprint appears on the seed packet. On the minimum imprintable quantity of 150 they are only $ .99 per packet.

Live Tree in a 10" Tube
These 10" trees can grow to 125 feet and last for up to 100 years. Great for grand openings, weddings, banks, Earth Day, Arbor Day or any other day that can be a Green day for both you and the environment, Available in either as a Live Tree in a Tube or a Live Tree in a Bag. Minimum quantity is 250. Call for current pricing.

Need pricing information, have a question or need samples you are invited to call us at 800 960-9080 or 206 285-5359 or email us at donace@promotionalproductsandideas.com
Need other ideas for Gardening type imprintable promotional items please visit our Gardening area at http://www.promotionalproductsandideas.com/GARDENING.HTM