Live Support Chat 9 AM to 5 PM EST Monday thru Friday
Watches & Clocks
Need a timepiece catalog or need a question answered ? Email us at donace@promotionalproductsandideas.com or don_shepherdson8@msn.com or call us at 800 960-9080 or 206 285-5359 (Seattle)
We have a great variety of sizes, shapes and themes for our various timepieces that can be custom imprinted. Just let us know what you are looking for and we will be glad to send you a catalog.
Computer Clock
Here is a great new design in clocks with only a 50 piece minimum for your custom imprint !

Flyer Design Clock
This unique design flyer features a round ring with roman numerals on one side, arabic on the other. Wall mounting, 7" diameter and is 1" thick. It has an imprint area of 2 1/2" diameter. Available colors are Yellow, White, Black, Blue and Red. The minimum imprintable quantity is 250.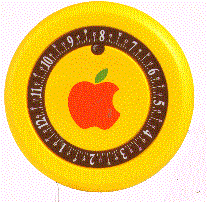 New Exciting Clocks
These stunning clocks vary in size from the two clocks on the far left and far right that are 2 1/2" X 3" X 1". The two clocks in the middle at the top are each 2 1/2" X 4 1/2" X 1". The clock on the lower right measures 3 1/4" X 5 1/2" X 1". The minimum quantity on any of these three shapes is only 25 with your imprint.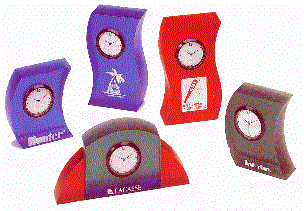 Corporate Watches
Here are some rather elegant watches that you may wish to consider for your corporate logo. The three watches pictured below feature accurate Japanese quartz movement, a sweep second hand, micron gold plated or chrome plated case, quality genuine leather straps and a scratch proof mineral glass crystal. Each watch has a long life oxide battery and a 5 year Limited Warranty.

Digital Stopwatches
Here are three inexpensive stopwatches where you can create your own graphics for the entire lens ! These stopwatches feature 1/100th second chronograph, lap time, 24 hour alarm and come with a long life silver oxide battery and a 2 year limited warranty.Minimum quantity with your imprint is 50.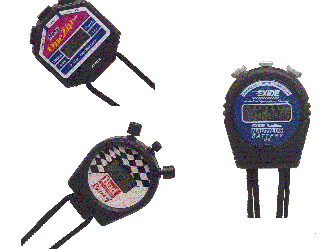 Computer Replica Watch
The computer replica watch is a great promotional item for anyone involved in the computer industry. This very unusual timepiece features a PC shaped case with 23 karat micron gold finish, precision Japanese quartz movement, deluxe leather strap, mineral crystal and your choice of white, gold, silver or white photo dial. Minimum custom imprint is only 12.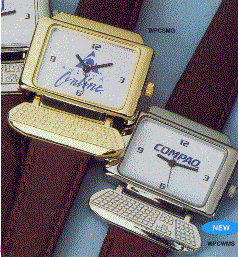 Talking Watch
This amazing watch actually speaks the time at the press of a button ! It can be pre-set to announce the time every hour on the hour. It also features an alarm function with a choice of three different sounds, scratch-resistant mineral crystal, three hand Seiko quartz movement, stainless stell band, stainless steel back, shock resistant with fluorescent hand and hour markers. Lifetime limited warranty. Your custom imprint appears on the face of the watch. Minimum quantity is 25.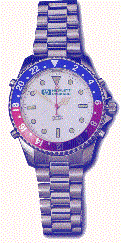 Brass Desk Quartz Clock
This brass desk quartz clock is 4 3/8" X 2 3/8" X 1 1/2" and features a generous imprint area of 1 1/2" X 1 1/2". Minimum custom imprintable quantity is 50.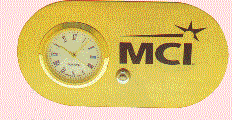 Black Marble Pentagon Clock
Measuring 2" X 2 1/4" X 1 7/8" this elegant black marble pentagon clock artfully captures the contrast between and eternity. Also available in green marble.
Night-Glo Travel Alarm
The Night-Glo Travel Alarm has a special green "Night-Glo" feature that makes it easy to read the time in the dark without turning on the light. The Travel Alarm clock measures 3 1/2" X 2 1/2" X 1 1/4" and has an imprintable area of 1/2" X 1 1/4". It also has a crescendo alarm. Minimum imprintable quantity is only 25.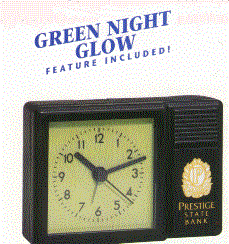 Satellite Dish Analogue Clock
Our Satellite Dish Analogue Clock is 5" diameter and 5" high with an imprint area of 1" in length by 1/2" high.. These area available in either black, white or silver and can be imprinted in a minimum quantity of 50.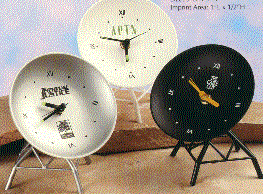 Traffic Light Clock, Thermometer and Compass
A combination clock, thermometer and compass make this a great award for attendance or as a corporate gift.It is 5 1/4" in length by 2 "wide and has an imprint area of 1" X 1". Minimum imprintable quantity is 50.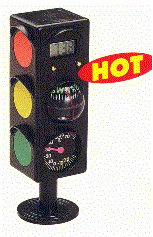 Pocket Watches
Here is a picture of an industrial strength Pocket Watch that is an ideal award for perfect attendence, safety incentives and as an award for length of service. Minimum imprintable quantity is only 25 .