Live Support Chat 9 AM to 5 PM EST Monday thru Friday
AUTO RACING

With so many types of auto racing that reaches from drag, go carting, stock car and Formula One only to name a few we thought it would be appropriate to show some imprintable items of interest whether you are a track owner, promoter, race car driver, pit crew, race team or a fan to show you just a sampling of some of the items that you may have an interest in for your particular situation. Need a specific item or idea call us at 800 960-9080 or 206 285-5359 (Seattle) or email us at donace@promotionalproductsandideas.com or don_shepherdson8@msn.com
Race Caps
With so many types of caps and hats available for one to wear we are presenting two caps that racing fans can really identify with. These poplin caps pictured below feature a seamless front panel with a standup buckram stay, sewn eyelets, terrycloth sweatband and snap back. One size fits all. Minimum imprintable order is 50 caps.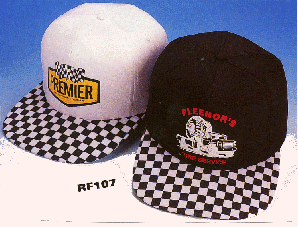 Stop Watches
Here are three stop watches that any race fan would be proud to use while watching his favorite race action.This is a good award item for those that really make things tick at their track. These are professional stopwatch wrist watchs at a low cost. The stopwatch measures time to 1/100th of a second. They also feature time and date with a sleek racer design. Minimum imprintable order is 25.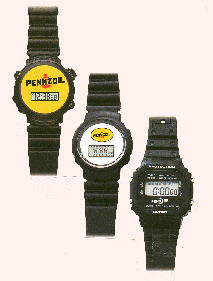 Water Bottles
What a great idea for a racing team to get their name out for potential sponsors and fans alike ! A water bottle with a racing imprint on a hot day is second in popularity only to the last races winner. Available in various sizes and shapes. Minimum quantity with custom imprint is 250.

Sunglasses
We have many types of sunglasses available. The sunglasses below with a race flag design also can have an imprint on the temple area. Your imprint can replace the race flag design or you can use this stock design along with your temple imprint. Give us a call and we can discuss your sunglass needs.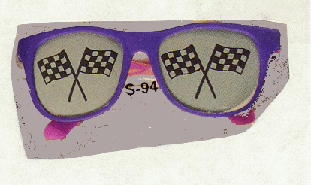 .
Race Flags
Whether your need is for a racetrack's use or for a souvenir stand we have access to a large selection of racing type flags in nylon, muslin and plastic. The race flags below are 3'X 3' flag set that can be mounted on a 4' pole. One set is the minimum.
Racing Calendars
We have stock racing calendars available for your custom imprint. Or we can do a custom calendar with your racing pictures that you provide to us. Or how about a magnetic mini calendar that can be given away perhaps at the start of the racing season with thelist of the many special races that will take place during. the season.
The three pictures below are taken from our 1998 Calendar line entitled Memorable Muscle. There is a different car picture for each of the months.The three pictures below from left to right are; 1964 Mercury Comet Caliente, 1970 Plymouth Road Runner and the 1968 American Motors AMX.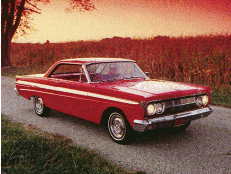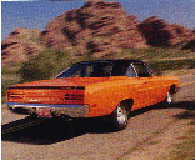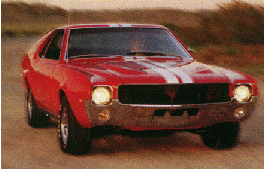 Checkered Flag Racing Jacket
We have many jackets to choose from , however pictured below is an outstanding jacket geared to the Auto Racing industry. The jacket is made of designer leather checkered flag pattern on upper and back arms. It has an inside breast pocket and two outside slash pockets. It is a 100% woven polyester lining with polyester fiberfill. The jacket is available in sizes of small thru XXL.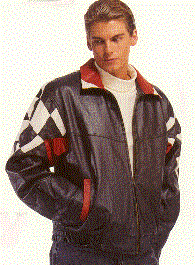 Race Car Alarm Clock
Here is a racing car alarm clock that also has racing engine sounds. The race car comes in a choice of red, blue, green or yellow. Minimum quantity is 12.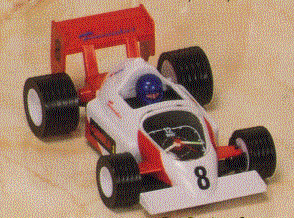 1997 Prowler Telephone
Here is a 1997 Prowler Telephone which comes complete with a lighted base, headlights, taillights and brake lights. Tone/Pulse switchable. Uniquely styled after this year's most exciting car. Minimum quantity 24.
Custom Dragster Shaped Ruler
We can custom shape just about any idea that you might have into a product and pictured below is a ruler in the shape of a dragster. Lots of area for imprint on the back side for your sponsorship and imprintable message. This is a 7" ruler, however we can make any size with any picture that you might desire. Call or email us for custom quotes.