Live Support Chat 9 AM to 5 PM EST Monday thru Friday
Fan Rooter Supplies
We are able to provide your booster group or school with many different types of items that are great for your fans and supporters. We have presented juts a few of the most popular below. Give us a call for your needs today ! Our phone number is 800 960-9080 or 206 285-5359 (Seattle) or email us at donace@promotionalproductsandideas.com or don_shepherdson8@msn.com and we will send you a free rooter catalog.
Bottle Jerseys
New for 2002 the Bottle Jersey is available in a football, basketball or baseball jersey and fits right over your soda, water or other favorite beverage to keep it cold. They fit 12 oz. to 20 oz. bottles and fold flat. There is so much imprint area that you can put the names and numbers of the football team on one side and your school or team logo on the other side. They are available in 21 different colors that include; Kelly Green, Navy, Black, Grey, White, Khaki, Magenta, Forest Green, Purple, Red, Yellow, Lime Green, Bright Orange, Royal, Neon Pink, Burgundy, Teal, Burnt Orange, Neon Blue, Camo Green and Tan Camo. It measures 6" high X 4" wide. Minimum imprintable quantity is only 250 and it can be screened printed or puff printed.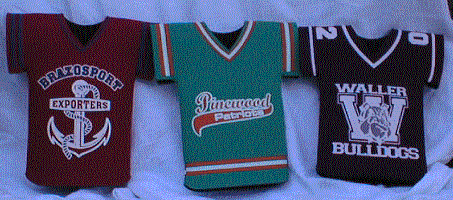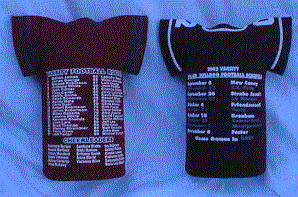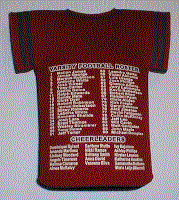 Thunderstix Noisemakers and Wave Stix
The Thunderstix measure 4" X 24" and provide a large imprint area. The Hockey stick measure 4 1/4" X 17" handle and a 8" blade. Available in 9 colors of; Navy Blue, Yellow, Royal Blue, Silver, Athletic Gold, Green, Red, Purple and Orange. Minimum imprintable quantity is only 125.


Snack Helmet
The Snack Helmet measures 10" high X 9 1/4" wide X 12" deep and is molded in PVC plastic and includes a plastic bucket in the center and a tray insert in the face mask. The imprint area provides three different decal sizes of 3 1/2" round, 5" wide X 2" high rectangle or a 4" wide X 3"high rectangle. Optional stripes are also available for the helmet. The Helmet is available in 14 colors including; White, Cardinal Red, Royal, Black, Green, Yellow, Orange, Navy, Teal, Gold, Purple, Silver, Maroon and Red. Minimum quantity is only 36. Also available as a Race Car Helmet.