Live Support Chat 9 AM to 5 PM EST Monday thru Friday
Soccer
We hope that you will get a kick out of the items that we are presenting below however they are just a few of the items that we are able to imprint whether its is for your soccer group, league, team, soccer booster club, school or other related soccer items. Please contact us at 800 960-9080 or 206 285-5359 (Seattle) or via email at donace@promotionalproductsandideas.com for more information on these items or other exciting possibilities in the imprintable soccer areas.
Inflatable Vinyl Soccer Ball
This 16" inflatable vinyl soccer ball is especially fun for the smaller kids just getting their first kicks in. It is lightweight and easier to play with than a regulation size and weight soccer ball.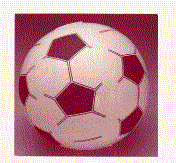 Wearables
We have a complete line of teeshirts, sweaters, jackets, etc. Many of these are presented in our Clothing area. Pictured below is one of our Murina Youth 100 % cotton tee shirt. These youth T shirts are available in sizes of small to XL in the youth area. Available colors are white/natural, ash, heather, black, blue spruce, bohemian blue, expresso, light blue, lime, maroon, new navy, orange, pacific blue, safari green, sand, steel blue and winestone.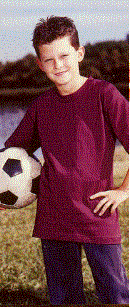 Soccer Stress Buster
Here is a great stress reliever that looks just like a soccer ball. These 3" stress balls with the soccer pattern can be imprinted with your club or team name. Minimum is only 100. Stress balls also available in golf, baseball, football, tennis and basketball.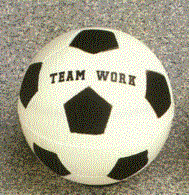 Inflatable Soccerball
Here is a 16" (32 circumference) inflatable soccerball. Red imprint of your choice on a white panel. Minimum quantity is 150 with an imprint.
Sport Whistle Key Chain
Our soccer whistle key chain is also available in baseball, football, tennis and basketball shape whistles. The soccer whistle key chain size is 2 5/16" X 1 7/16" X 1 7/16" with a minimum imprintable quantity of 150.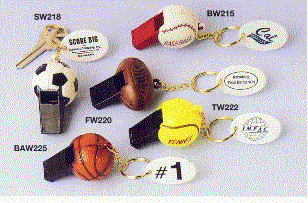 Soccer Ball Key Chain
Our soccer ball keytags are made of rubber and measures 1 3/8" X 1 3/8". With a 300 minimum imprintable quantity the disc attached to the keychain gives ample space for your message.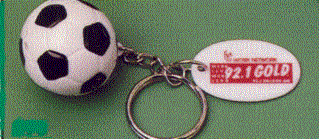 Analogue Soccer Clock
The Analogue Soccer Clock has a rotating soccer ball . The size is 4" long by 2 1/4" wide by 5 1/4" and provides you with an imprint area of 3 1/2" long by 1 1/4" wide. We also have this clock available in baseball, tennis, golf, football, golf, basketball and hockey. Minimum imprintable quantity is 50.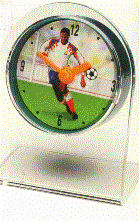 Gold Plated Key Tag or Award
This Soccer gold plated key tag can also be used without the Key Ring and and it really makes a great award for soccer volunteers or other orgainzations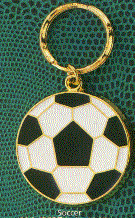 For pricing and information please call 800 960-9080 or 206 285-5359 or email us at donace@promotionalproductsandideas.com